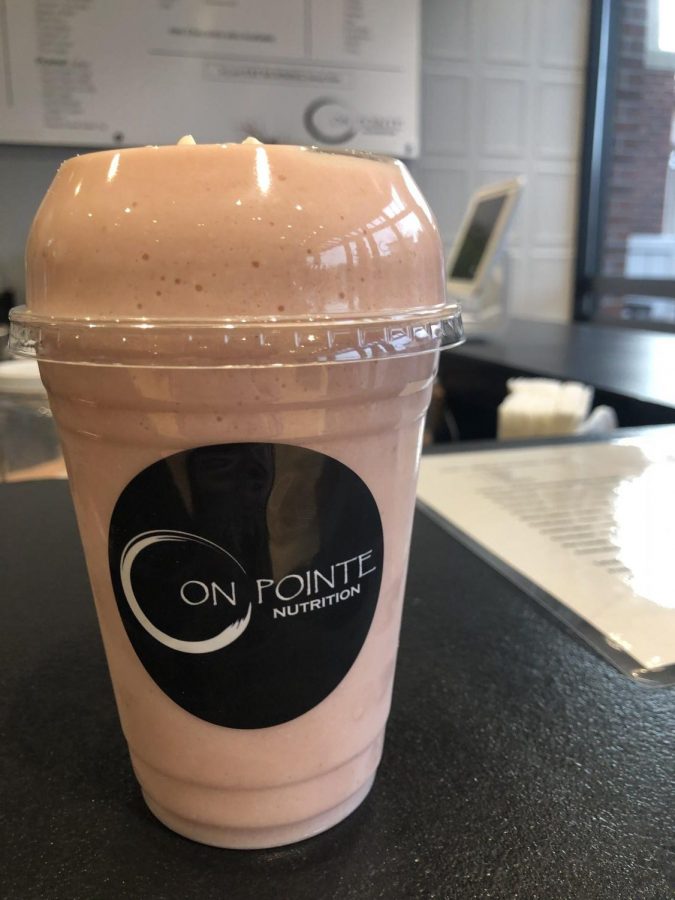 Bringing a Point to healthy eating
A new shake and tea cafe opens up in Village Pointe
Healthy eating is something many doctors, health technicians and trainers are advising as heart disease and obesity creeps up on people all over the world. According to cdc.gov, over one million people in America have been diagnosed with heart disease and over 93 million have been affected by obesity due to their eating habits. Even with warnings of early death, people still continue with their eating habits of fast food and soda. Keto and Paleo diets have all been options for eating healthy, but many like to eat the rich flavor that sugar and fats bring to their taste buds. That is where On Pointe Nutrition can come to assistance as they bring a change to shakes and cold teas in the Omaha area.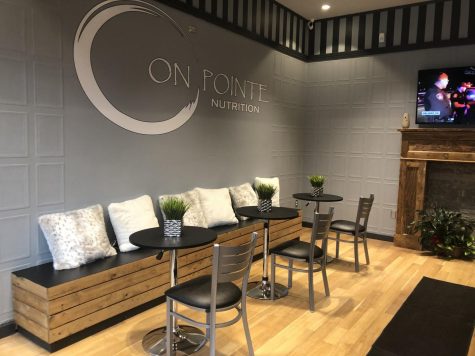 On November 29th, a new cafe came to Village Pointe that includes beautifully crafted shakes and teas which include special ingredients that can help the body. Owner Moni Sullivan started up her nutrition cafe to help people learn that healthy can taste delicious. All the shakes she makes are no more than 250 calories with 14 grams of carbs and 24 grams of protein. A benefit to those who are lactose intolerant is none of her shakes include dairy, only water and protein powder. 
On Pointe Nutrition offers more than 70 different flavors of shakes and teas. Some of their most popular shakes flavors include Brownie Batter, a rich chocolate shake filled with chocolate protein powder and dried oats, topped with brownie crumbs and chocolate chips. Another popular shake flavor is the Cinnamon Toast Crunch, a guilt-free drink that tastes of sugary cereal. 
The teas include certain ingredients that pertain to the customer's liking. The customer can get three different types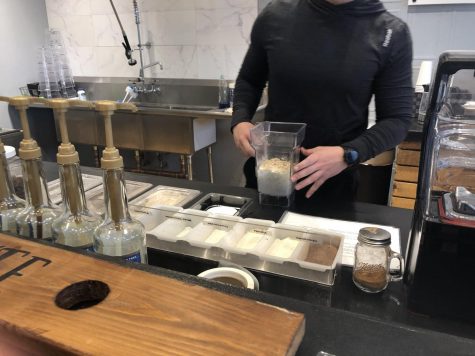 of teas, one is a basic tea filled with delicious fruit flavorings such as their Raspberry tea, tea extract and aloe. The second option is tea with natural energy that contains an energy boost without the jitters or crash that Redbull or Monster will have. One of the options for natural energy contains the Pineapple Crush which is green tea mixed with mandarin aloe and a tropical liftoff. The final and most popular tea has the benefit of collagen, which is a natural powder supplement that is good for the hair, skin and nails. The most popular option is the Tropical Sunrise that includes a raspberry tear flavoring, mango aloe, a tropical liftoff and collagen powder. 
After doing some investigating into what this restaurant serves and whether it was worth the trip, I decided it was time to try this place and do some digging of my own. 
Walking in, I was greeted by the sweet smell of fruits and a smiling employee ready to answer all my questions and serve me my drinks. The inside was very modern looking with a bench covered in a long comfy pillow and a wide glass window to look outside as the customer waits for their drink to be made or as they are enjoying their drink. 
The menu was filled with 12 categories that were the main flavors of the shakes that were five dollars. Under each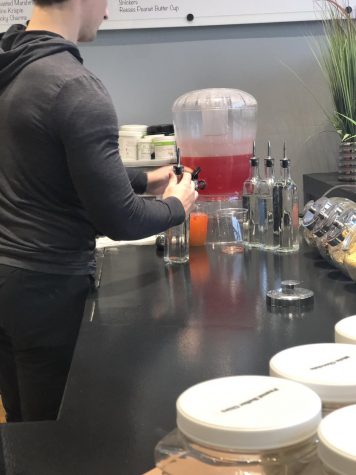 name contained the specialty drink they could pick from. There was a Cookies and Cream category that was the most popular that contained options such as Oreo, Frosted Animal Cookies and Birthday Cake. Another category that related more to the fruity drinkers had options such as Pina Colada, Fruity Pebbles and Beach Sunrise. The tea flavors for the price of five dollars included Raspberry, Lemon, Peach and Cinnamon. If they wanted, a customer could get both a shake and tea depending on which level they are looking for. The levels include Level One which includes the basic tea and shakes for $10, Level Two has natural energy for $13 or Level Three that contains collagen for $16.
After looking over each flavor, I decided to go with Strawberry Cheesecake Shake and a Level two Pineapple Cherry Tea. I got to watch as the employee made my drinks and I was fascinated as they mixed and added ingredients to each. The blender that would make my shake contained water, strawberry protein powder and oats. After blending, the employee topped the shake with graham cracker crumbs and white chocolate chips. The next drink he made was my tea, which was a pink and orange mixture. He mixed up the colors, making a beautiful Miami pink coloring to it and topped it with ice. In total it cost me $15.95. 
I tried the shake first and it instantly brought me back to memories of homemade cheesecake. It was rich in flavor and tasted strongly of fresh strawberries. It was thick and creamy from the oats and was the perfect mix. 
The tea was my favorite out of the two drinks though because it tasted of Kool-Aid, but much fresher than the childish drink. Since I got the level two tea, it had the natural energy boost and it did give me the energy to get me through my day. I loved that it didn't affect my sleep or make me feel sick as most energy drinks do hours after drinking them. 
Overall, On Pointe Nutrition is a cafe I plan on visiting weekly since there are so many options of flavors I can try and it is a great source for health. I recommend this place to anyone who is looking for an alternative to sweets, trying to stay in shape or just wants to try delicious drinks.