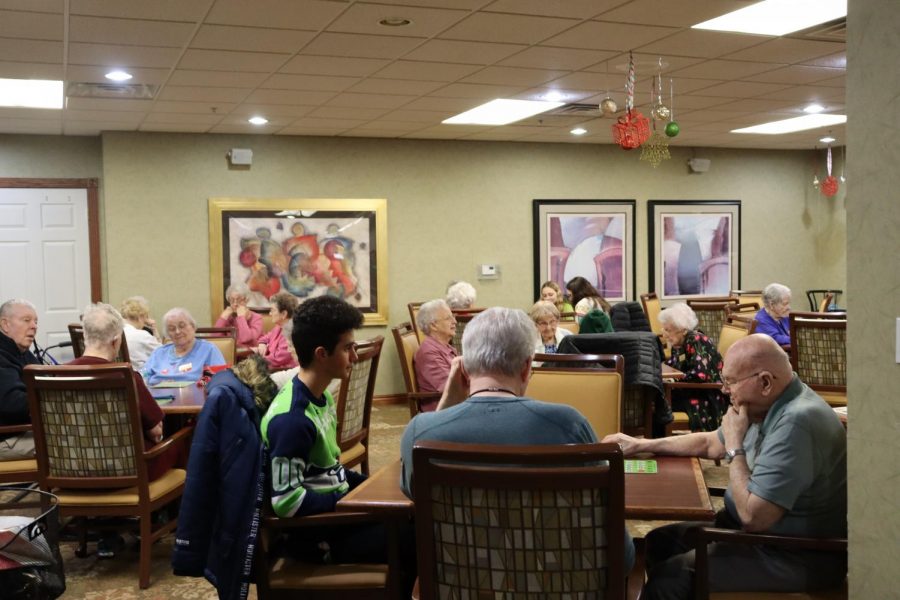 Spreading cheer B4 the holidays
Student Council visits Walnut Grove Retirement Community for Bingo Night
Clink. Clink. Clink. No, it's not the sound of a ceramics class or a walker shuffling through the hallway. These seniors live their lives with a little bit of risk and reward. They ready themselves above their bingo boards and drop their dimes and quarters into the glass winnings jar. Clink. Clink. Clink.
On December 16th, seven members of the Millard West Student Council joined in on the bingo night action at Walnut Grove Retirement Community. For an hour and a half, they talked with residents, crossed their fingers for bingoes and gave out hand decorated ornaments. Stories were told, laughs were shared and winners received their prized silver coins during the ten round game.
"We have been coming to Walnut Grove since Millard West opened," Student Council sponsor Mark Klein said. "We've been doing the ornaments probably around nine or ten years."
Weeks in advance, Student Council adorns the red, gold and green ornaments with holiday words and images. While bingo commences, some student council members and sponsors take to the halls to deliver the decorated baubles to residents.
"They make it festive," resident Elaine Hennings said. "All our floors have Christmas trees and some of the residents decorate them, so we are all included."
Back manning the bingo cage, senior and Student Council president Olivia Oeth says inclusion is what draws her to this opportunity.
"It really brings everyone together from all ages," Oeth said. "This is my third or fourth time at bingo night, and I love it more and more each time. It's so interesting to hear all their different stories. Connecting over something that everybody knows is really special."
For Student Council sponsor Ali Bragg, the connection runs deep. With her son Jack in tow, she has been coming to Walnut Grove for as long as she can remember.
"These guys know us," Bragg said. "They wait for us to come. They've known Jack since he was a baby."
And although Jack may have stole the show for a moment with his lucky bingo, there were plenty of other winners. One resident even won three times. 
While Hennings unfortunately didn't walk away with any more coins, she has no hard feelings. To her, it's more about the atmosphere and the people she's with.
"We have a lot of activities, but this one we can just sit down and visit at the same time," Hennings said. "I like seeing people come in and the togetherness we have. We are all kind of like a family here." 
The feeling is mutual. Student Council seems to benefit just as much as the seniors do.
"It's always a joy to have this opportunity around the holidays," Oeth said. "I hope this tradition continues. My favorite part of bingo is just seeing all their lovely faces."
It seems like nothing will be stopping Student C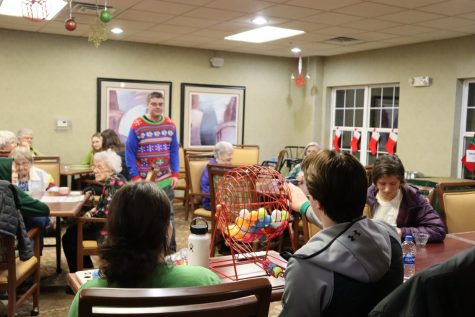 ouncil from visiting the residents of Walnut Grove anytime soon. 
"I think it's nice to give back," Bragg said. "You meet more than just the ones playing bingo."
They meet people that exclaim their excitement over fluffy bathrobes they receive for Christmas and residents returning from the hospital during the holiday season. They meet the epitomes of the joyful holiday spirit—the ones that maybe can't get out as much but still make the best of the snowy season.