Rising Up In Sushi
Traditional Japanese Restaurant Opens in Omaha
Rizin Japanese Ramen opened on January 29th 2019. It is a small family-owned restaurant in Omaha NE. The husband is the cook in the back who makes the sushi and ramen, while the wife is the only server in the restaurant. Their hours are from 11:30 a.m. to 9 p.m., but sometimes will vary on how busy they are.
The restaurant had about 10 tables and a booth bench that lined the wall. They had few food options that included sushi, ramen noodles and fried fish. Some of their food meals includes California rolls, which is a rice roll with crab and avocado in the middle wrapped with seafood to hold it together. They also served rice noodles, called Ramen with 4 different options you can eat it. You could get fried eggs or chicken with each noodle. Each ramen meal also comes with a different spice, giving them all different names. You could also get a chicken ramen broth. If you aren't into meat, no need to worry, they have a meat free noodle option for those who are vegan.
We stood at the front desk for about six minutes before we were seated. With few people working, service was slow. If they had self seating, they may of had faster service since they wouldn't have to stop what they were doing and seat someone at a table.
Once we were seated, it took them about 10 minutes just to ask what we wanted to drink. Their drinks were also all canned drinks, so they had few options. They had five options of soda, three traditional Japanese drinks, two were tea and one was a soda, alcohol and water.
I got two rolls of sushi and a five piece fried shrimp with a traditional Japanese drink called Calpico Soda. In total it cost me $27.78, which is a great deal for sushi, especially when it is handmade in the restaurant. I was with a friend, so when I saw the shrimp only came with five pieces that cost $5.25, I was hesitant to get it, but when I got the meal I was amazed at the size of the shrimp. They were about six inches long and covered in lots of crumbly breadcrumbs. I did like the shrimp, but it could've used less breadcrumbs since I felt like all I was consuming was pounds of breadcrumbs and just a sliver of shrimp, plus a downside was with every bite I took crumbs of the breadcrumbs would fall all over the place, making quite a mess of the table.
O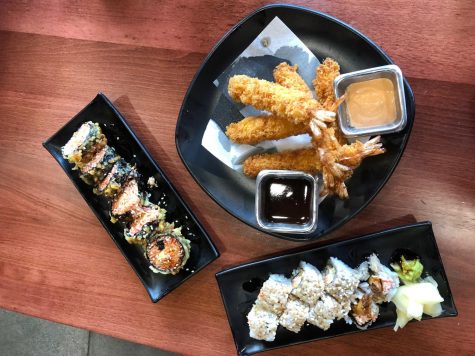 ne of the sushi rolls I got was called Vegas Roll which cost $7.25. It's a fried crab and cream cheese roll. This sushi roll was not one of my favorites, the cream cheese added a strange flavor to it. It was also somewhat soggy like it had been sitting there for a while before we had eaten it. It didn't come with any sauce either, leaving me to eat it with the soy sauce they put it on, which made it taste even worse. I think if they gave me a dipping sauce for the sushi, it would've been more appetizing.
The second sushi roll I ordered was a Shrimp Tempura Roll, which is one of my favorite sushi's in general. It is a cooked roll with shrimp, crab, seaweed and cucumber wrapped up in white rice. I loved the first couple I ate, but when I got to the ones in the back, I could tell they were drenched in soy sauce. The ones in the front of the roll were well-prepared by the chef, expect some small parts of the sushi were cold, which was a weird mix from warm sushi to a cold bite.
I am not a soy sauce fan, so having no choice in the sauce was something I strongly disliked. If they didn't put soy sauce on the sushi without my approval, I think the sushi would've been perfect.
Besides food, I also got a traditional Calpico Soda which is bubbly orange flavored drink. The drink comes in many flavors, but the restaurant only sold one, which was the original orange. When I poured the drink in the glass I was amazed of its appearance. It looked almost milky. The ingredients in the drink was water, sugar and non-fat milk. Having milk in the soda was very interesting, but it was absolutely delectable. The bubbliness of the soda, and the enticing smell and taste of the drink filled me with joy.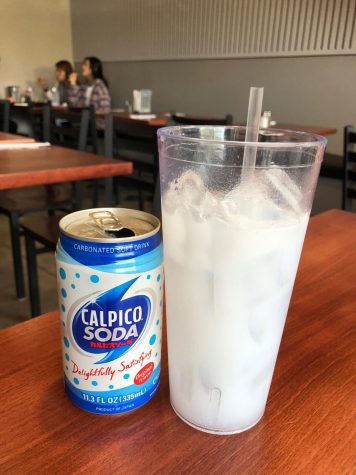 In all, Rizin Japanese Ramen was a darling place. The smallness of the restaurant was lovely since it wasn't too crowded and I didn't feel overwhelmed of being seated shoulder to shoulder with someone from the next table. The food was pleasant, but it's not as good as other sushi restaurants such as Blue Sushi, but it was good enough sushi for the price I paid. I would recommend this place to anyone who loves Japanese food, loves sushi, or is looking for an inexpensive restaurant to satisfy their seafood cravings.
3.5 stars food 2.5 stars- service
About the Writer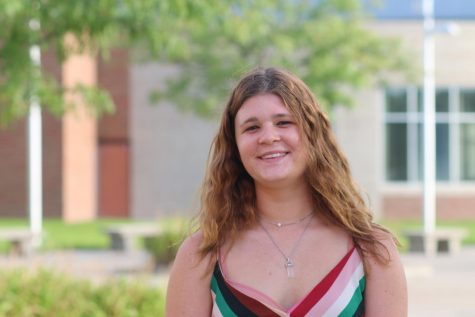 Annalise Smalley, Staff Reporter
Annalise is a junior this year, and is in her second year of Advanced Journalism. She runs in her free time and loves to cook and bake. Annalise has two...