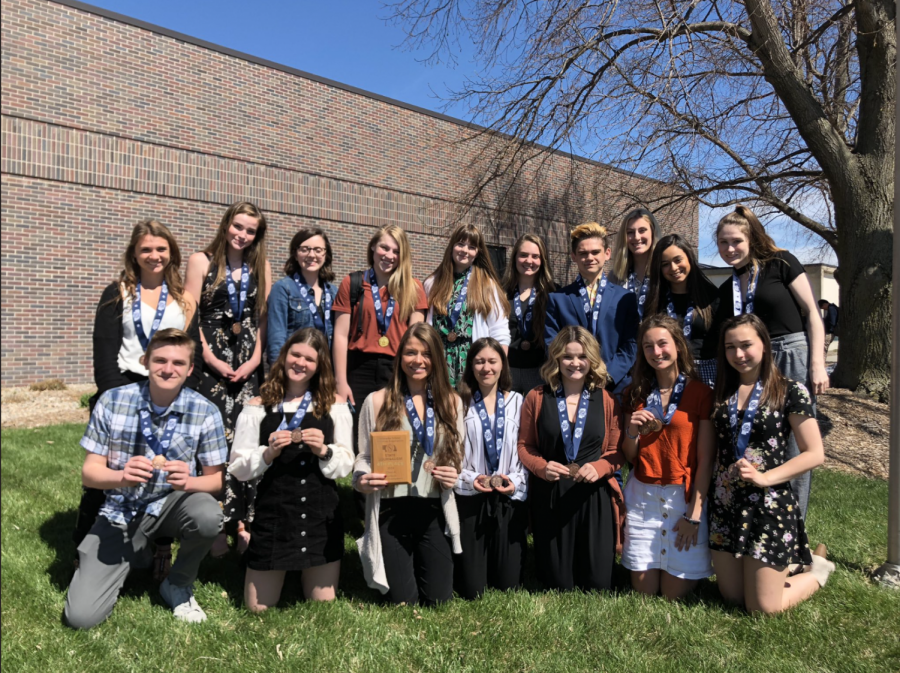 Photo Courtesy Mark Hilburn
On April 23, 2019 the Millard West Journalism department traveled to Norfolk, Nebraska, to compete in the annual State Journalism competition. The 18 journalist brought home 29 individual medals, with two State champions, one Journalist of the Year and an overall fourth place finish.
Once the students arrived in Norfolk all three classes met in the Northeast Community College gymnasium for a quick opening session, and Senior Madelyn Augustine was presented her 2019 Journalist of the Year Award and scholarship check.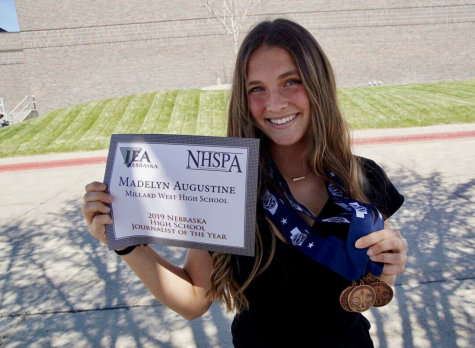 "When I was named Journalist of the Year, I was so surprised and happy," Augustine said. "I felt like all of my hard work had finally paid off and being recognized at State Journalism was a really cool experience because it was in front of all of the best journalists in the state."
The day was broken up into two sessions where student journalists competed on-site in writing and advertising categories. Within each competition, students were given a prompt in which they had an hour and 15 minutes to complete their assignment.
"The other competitors and I were given a specific prompt to write a News Story about," sophomore Kiersten Watkins said. "The topic consisted of interviewing the Public Safety Director of the City of Norfolk, and then write a story about his experience with the recent Nebraska flooding."
While many of the students competed on site, the other 12 of the 25 categories were judged and awarded points ahead of time in a prelim announcement that was released a month before State.
"The indepth category is was in was a really big collaboration between everyone that we had to create before hand," senior Gabriel Paredes said. "In a broadcast you are typically working with a partner but in an in depth you are placing trust with each other and compiling a story together."
Two of the eighteen wildcat journalist became state champions in their category. Sophomore Ashley Hendrick won in Advertising, a challenging division that requires critical thinking and design skills.
"The Advertisement we were required to make was for a car dealership," Hedrick said.   "I had to use a design software such as InDesign or Photoshop and was then given certain amount of time to find pictures and information then proceed to turn it all into a final product."
Senior Ava Dunne was awarded the first place title in Yearbook Sports Feature writing. In her division, she was given an hour and fifteen minutes to research and write a feature story about a fictional softball team. Dunne was given statistics and information that would be necessary to write her award winning story. As the awards began, Dunne waited patiently for her category to be called. During the awards, she even earned a fourth place finish in a Yearbook spread layout.
"I was in shock, I still kind of am in shock," Dunne said. "I had accepted a fourth place award for another division so going into the my second category, I had thought to myself hopefully I can get fourth or better."
The State Champions will be recognized during a Board Meeting on Monday May 20. and they will be placed on the Commons on the Wall of Champions. Even though State is over, these journalists will continue to be hard at work as they rally to finishing the 2019 Prowler Yearbook and Volume 2, Issue 4 of the Catalyst Newspaper.