Pizza From Generations
Traditional Pizza Place Opens a New Restaurant in West Omaha
Hang on for a minute...we're trying to find some more stories you might like.
La Casa Pizzeria is a small local pizza business in Omaha NE. They have three locations, the newest one is located on 610 S 168th Street t in Omaha.
This pizza restaurant is an Italian restaurant that serves Napoleon Pizza, hamburgers, sandwiches, french fries and pasta. They also have special desserts. If you are going for more healthy option, they have fresh salads that can come with me or just vegetables.
The owner, Joe Patane and his family migrated to America from Sicily and they began this business in Nebraska. This business is now an Omaha tradition, as their first location since 1953. Now their third and fourth generation of family is still keeping this business going with new restaurants and traditional pizza. Their saying is, "it's not just the pizza it's La Casa."
When I first walked into the restaurant, there was the counter where you ordered your food. You can either look at the menu on the top of the wall or if you get a paper menu from the waiter, then order your food.I noticed that it was quite bare, only a couple tables were in the front room and back room.
There were options of a 10 inch pizza, a 10 and a half inch pizza and a 12 inch pizza.  There were options of just tomato and cheese or you can get one topping, two toppings or three toppings. The toppings included pepperoni, sausage, hamburger, cheese and vegetables. The appetizers consisted of ravioli, onion rings, fries and cheese bread. The staff was very friendly, and they got to us right away and took our order.
I ordered a small 10 inch pepperoni pizza, french fries and a lemonade. We then ordered the only two deserts of the restaurant to get the real benefit of Italian restaurant.  We got a orange chocolate chip cannoli and a Tiramisu.
The french fries came first, as they were an appetizer. I have tried many french fries, and these were a little dry, but they were very crispy. With ketchup they were perfect. The pizza came out in about 10 minutes after the French fries, which in all was 20 minutes from when we ordered, which was a great timing.
The pizza was fabulous. It was a thin crust, homemade sauce, pepperoni pizza. The tomato sauce had chunks of tomato and spice in it. It was covered in a light layer of cheese with a few pepperonis around the top.
I love that it was thin crust because that meant I could eat more of that without feeling too full. It was like heaven on Earth, it was one of the best pizzas I had ever tried.
We then went to the counter and asked for our cannoli and Tiramisu. They brought it out in about five minutes. We first tried the cannoli cutting in half and looking inside, the inside was filled with a frosting cream substance with dried oranges mixed in with it and on the edges of each side, there was a dried Orange Peel slice. Mixed in with it were little tiny chocolate chips.
After biting into it I discovered that it was not one of my favorite things at this restaurant, the creamy frosting substance was more like gingerbread frosting used to stick the gingerbread house together. It was not very tasty and it was quite plain. The pastry wrapping around it was a little dry and it had no taste.  I had heard a great deal about cannolis, and that they are very good, but they were not one of my favorites.
We then tried the tiramisu, which is a coffee- flavored dessert. My friend and I thought the desert would be like a fluffy cake, but when it came out we saw that it came in a container and it was quite cold. We took off the lid, and noticed that it was more of an ice cream cake dessert. The top was covered in coffee cinnamon crumbs and the first layer was a ice cream ice, cream layer, which was our favorite layer. The second layer was cake and the third layer was crushed up coffee crumbs. I'm not a huge fan of coffee so the last layer we didn't not eat. This deser
t was our absolute favorite. I would definitely get this again, it was like a scrumptious treat for a nice hot summer day.
Besides just food, you can also buy La Casa Merch. If you just love the food, you can show it off  by wearing T-shirts with the logo of an Italian Pizza Chef.
One improvement the restaurant could make is the drinks. They didn't have quite as many options and I asked for a lemonade which came in a bottle. All the other drinks came from a fountain, which is because you can refill the drink, we instead got a bottle of lemonade which was quite sour and we couldn't get a refill so that was all we got. The pizza did make us quite thirsty so we drank most of it, and at the end we were quite thirsty for more.
One of the things I really like for the restaurant, was that we were able to grab take home boxes by ourselves and did not have to go up and ask someone for one and disturb their cooking routine. I also like that they had to separate rooms to eat so you didn't have to use a crowded place. You could choose a high table and high chairs by a beautiful window and look out at the nice view of the area.
Overall, this place was delicious and is now one of my most favorite pizza restaurants. I would definitely go to this pizza place again and would probably bring my family and friends to try it with me. I recommend this place to anyone who loves Italian food or wants to try real Italian pizza without all the loaded carbs and cheese that Americans add on.

About the Writer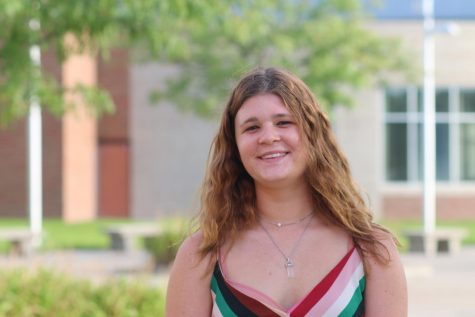 Annalise Smalley, Staff Reporter
Annalise is a junior this year, and is in her second year of Advanced Journalism. She runs in her free time and loves to cook and bake. Annalise has two...