Us of America
Jordan Peele's new film masterfully blends horror, humor and social commentary
Hang on for a minute...we're trying to find some more stories you might like.
"Us", Jordan Peele's sophomore film, is a cinematic marvel. It is a gleefully horrific tale about a family fleeing from a violent threat, as it is a poignant look at class. It offers the internal and external struggles of a family along with the story of a woman facing her dark past and treats topics seriously while reserving room for comedy. The movie seamlessly blends horror, humor and commentary to reflect its narrative of two divergent groups meeting. Even down to the title representing the initials of the United States, it creates a double-sided coin that provides a frightening experience for casual viewers and a thought-provoking perspective on America for seasoned cinema watchers.
The film starts in 1986, with a young Adelaide Wilson (Lupita Nyong'o) celebrating her birthday on the Santa Cruz boardwalk, accompanied by her parents. As a thunderstorm develops in the pale night sky, she travels away from the bustle of the pier onto the beach and steps in a hall of mirrors. Inside, she comes across her doppelganger, which terrifies her into a silent state for a time following the event. 30 years later, Wilson's family is taking a trip to Santa Cruz to meet with their white family friends, the Tylers. Her husband, Gabe (Winston Duke), is bent on providing an enjoyable vacation for their children (Shahadi Wright Joseph and Evan Alex), while Adelaide is becoming increasingly nervous about returning to the pier, saying she can feel her double creeping nearer. Both families meet at the beach and after some strange occurrences, the Wilsons retire to their vacation home at night. Adelaide's fear is confirmed, as a silent family stands motionless before invading their vacation home. They invade the house and trap the Wilsons on their couch, almost paralyzing them in fear. It is revealed the mysterious family are doppelgangers, who call themselves the Tethered.
The movie has a gorgeous look, with cinematographer Mike Gioulakis, who also filmed "It Follows", wonderfully expanding confining spaces such as tight hallways and a speedboat to create an effective horror setting. Not only this, but the shot compilation visually explains what characters are feeling and the themes of the film, especially in meetings between Adelaide and her double Red near the conclusion. "Us" additionally offers an eerie soundtrack composed by Michael Abels, which significantly boosts the quality of the horror in the movie.
Nyong'o elevates the entire film with her performance as both a woman terrified of her past catching up with her and a deranged but elegant lunatic. Adelaide is a deeply traumatized woman having to put on a façade of strength for her family in an indecent time, while Red possesses an unnerving sense of control and enjoys finding new ways to terrorize the Wilsons. Duke also flexes his comedic muscle in "Us", delivering as a goofy dad who never feels stereotypical, but appropriately provides spots of comedy to break up the horror. Together, they both form the heads of an extremely normalized family. The Wilsons are a typical college educated, middle-class family with four members.
This normality plays into the hands of a poignant analogy of class in America. The Wilsons are a harsh contrast to the Tethered, who literally live inversely to each other with the latter forced into a life of misery. It intricately shows the fear of societal movement comes from within, not from malevolent outside sources. However, the brilliant nature of "Us" allows audiences to interpret its commentary in a multitude of ways. It can be a view of the United States underlying racism, with hints like the hall of mirrors changing from "Shaman Vision Quest" to a more PC "Merlin's Enchanted Forest". The multiple references to Jerimiah 11:11 can be looked at as an analogy to heaven and hell. "Us" expertly challenges what groups live in either through creating flawed protagonists and sometimes sympathetic antagonists. At times, the movie questions even the audience's outlook on their own standing in society. It is a brilliantly crafted exploration that touches on a variety of social issues without ever being preoccupied with going down a checklist of topics to speak about. "Us" is subtle and leaves viewers asking questions, which was no doubt Peele's intent. He explores these issues while still perfectly blending them into an amazing horror movie.
The arrival of the "Us" has drawn comparisons to Peele's debut film, "Get Out". However, he is not concerned with competing with his first movie, rather he wants to create a story that entertains as much as it challenges and raises more questions than it answers. In a sense, Peele's movies form another double narrative. Both films are enjoyable as they are moving, but "Get Out" answers and explains its themes of white liberal racism much more clearly than "Us" exemplifies its messages. It shows his prowess in stunning viewers as much as he can effectively perplex them. Peele knows how to manipulate the minds of his audience with just his second film.
He possesses the unique gift of blending blood-curdling horror, social commentary and comedy all into one project. He is unlike any director before him, taking elements of Alfred Hitchcock's innovative scare tactics, Stanley Kubrick's seamless mix of metaphorical visual language and his own perfect comedic timing. It is obvious Peele pays tribute to great horror films, with many visual call backs to Kubrick's "The Shining", but he creates a special type of movie. "Us" delivers on all fronts and makes clear social exploration is a big factor of its story; it shows no other director has accomplished this blend as successful as he has.
His newest film speaks to multiple audiences while never pandering to them. Peele has made an intricate, intelligent and entertaining movie that deals America's seemingly current past. All of its aspects are exceptional; however, his willingness to allow audiences to explore the chilling parts of the American experience make "Us" a truly special film.

About the Writer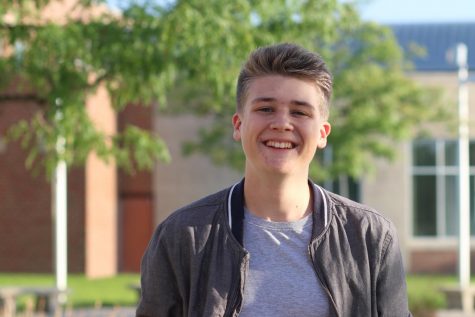 Edison Geiler, MWHS Wildcat News Editor-in-Chief
Eddie is a junior returning for his second year on the CATalyst staff. He loves writing opinion pieces, but he hopes to expand his portfolio this year...