A step up on Mexican food
A modern looking colorful restaurant gives a twist to Mexican culture
Agave Azteca is a Mexican restaurant located on North 132nd Street in Omaha that has been open for about 10 years.
The restaurant serves many different options from their menu. They have options such as burritos, tacos, seafood and quesadillas. The burritos are filled with different options, you can get beans, chicken, cheese or steak. The tacos can be hard shelled or soft-shelled and they can be filled with chicken or steak. The seafood options are tilapia, shrimp and salmon. The quesadillas can either be cheese or chicken and are grilled to perfection.
Some of the dishes that Agave Azteca offers are Chimichangas. Chimichangas are fried tortillas filled with lots of meant, beans and cheese. It is a Cheesy mess all in one. They also have dishes such as tilapia shrimp, which comes with shrimp covered in cheese sauce and a fresh tilapia fillet on the side, served with rice.
I heard about the restaurant from an online review while I was looking for new Mexican restaurants. The reviews were great, and the pictures of the food looked very appetizing.
When I first came to the restaurant, on March 9th, it wasn't too packed so I was able to enjoy the scenery of the restaurant. It is in a cozy spot in a little strip mall area. Walking in, you were able to see beautifully painted walls all in different colors of people and spanish symbols.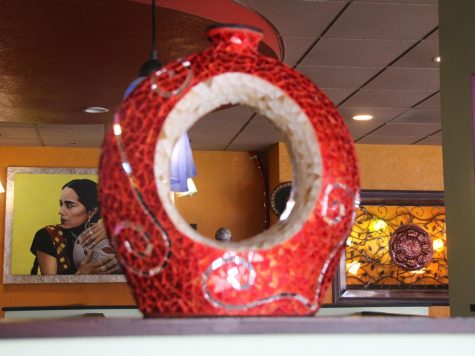 The restaurant also had plenty of artwork vases and statues of animals and people, that were all around the restaurant. I got to talk to one of the friendly servers, who was from Mexico himself. He told me about how all the artwork and the chairs and tables were all made in Mexico. The man and wife who own the restaurant had a friend in Mexico who would make them all their furniture and artwork. It was wonderful to know that even the things inside the restaurant were authentic and not just from the United States.
I also got to see the most beautiful lights that filled the room. When you walk in, you see a gate-like structure that holds beautifully-crafted lights that are all different colors and have different designs on them. In another one of the rooms at the restaurant, you can see a chandelier with the same lights on it letting up the room beautifully. It was very appealing to the eye and I love that the restaurant had that effect on me
After getting seated, I looked at the menu and ordered food. They first served salsa and chips as that is what most Mexican restaurant serve first. The salsa was homemade and it was delicious. I then decided to order food. I got a pick two option which only cost me $10.25. With that option I got a quesadilla loaded with chicken and cheese and then a hard shell taco filled with beef, on the side it was served with Mexican rice and beans.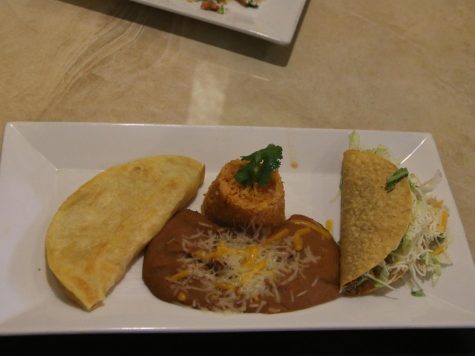 The service was very fast and I got my food in about 15 minutes. The plate they served me was beautifully decorated with all my food, on top of the rice there was a single piece of cilantro to make it look more decorative. The hard shell taco with absolutely delicious and it seemed to crumble in my mouth. It had loads of lettuce in it and it even had some tomatoes and beef mixed in. The quesadilla seemed to melt in my mouth. The cheese was just perfectly melted into the chicken and the quesadilla was perfectly crispy. I even dipped it in some of the beans and rice.
Mexican food is one of my most favorite food options and ever since my favorite Mexican restaurant, Margaritas, closed down, I've been searching for the best possible restaurant just like it. The service was fantastic, the food was delicious, and the interior design of the restaurant just appealed to my eye and had a hold on me. Next time I go I plan on getting enchiladas, I make it a lot of lot at  home and getting to try authentic Mexican enchiladas and see the difference between mine and theirs would be exciting. I would also like to try their churros since those look quite delicious.
I would definitely recommend a restaurant to anyone who loves Mexican food, wants to learn a new culture or just wants to eat some good food at a cheap price
5 stars
About the Writer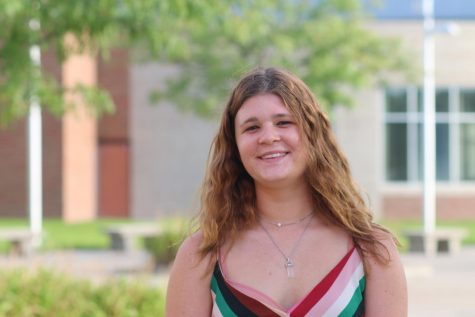 Annalise Smalley, Staff Reporter
Annalise is a junior this year, and is in her second year of Advanced Journalism. She runs in her free time and loves to cook and bake. Annalise has two...