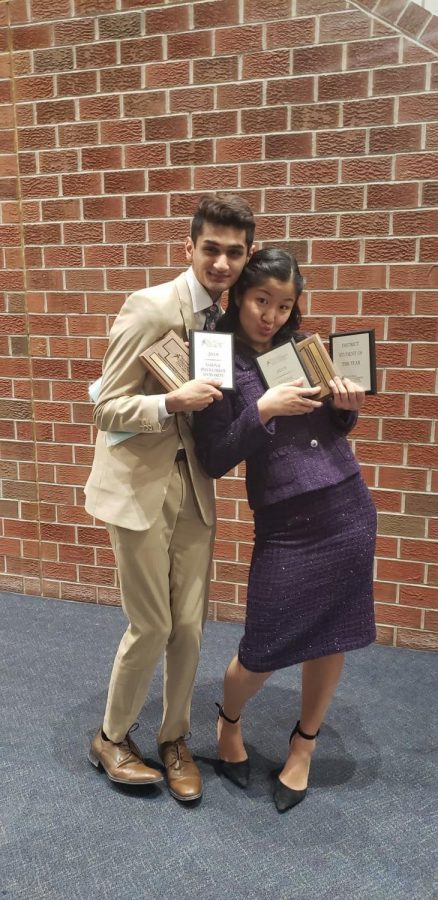 On Saturday, March 2, Forensics attended their District tournament, where students can qualify for Nationals. This was the spin off of the end of the year tournaments that let students compete for a chance to be a National qualifier.
In Forensics, senior Joanna Bai qualified in Dramatic Interpretation and junior Aaryan Naik qualified in Informative. Dramatic Interpretation is when you take a serious script and act it out. Bai's DI was about dealing with the hardships of life via music. Informative is just a speech in informing others in amusing ways, Naik's speech was about aesthetics and how they can be beneficial.
Throughout the season, the students practice and compete, leading up to the District tournament to try and improve as much as they can before the qualifying tournament. Forensics coach Jennifer Jerome helps students whenever necessary to try and prepare them for the stress that the tournament brings. Bai also attended a camp where she received extra help to try and get her piece to reach full potential. In the camp, other coaches helped change certain aspects of her piece and cut it down to fit. While everyone competes at the qualifying tournament, not many people qualify. Being able to win is a very big accomplishment.
"We have the hardest district," Jerome said. "We competed against four of the top five schools in the district tournament and it is high stakes. It is a blood bath going into it. It was also a smaller pool since it was only districts, so it is harder and scary."
Millard overall had a lot of success. Bai won the Student of the Year award, and Mark Hawkins won the administrator of the year award, along with our national qualifiers.
"It is really cool that he [Mr. Hawkins] is voted on by different colleagues and he has really done so much," Jerome said. "He really is the administor that is the champion. We had a lot of Millard success and that is really amazing."
Competitors worked throughout the whole season to prepare their speeches and make revisions as they see fit. Hours were spent cutting their speeches and running through to make sure they could use the best speech possible.
"Going into the tournament, I was thinking that I was going to get third again," Naik said. "I was very nervous, but I think I was less nervous and I already had a Tournament of Champions bid. I remembered this was not the end of the world, and everyone didn't know what to expect so it was wild. Prepping for the tournament I did a lot of run throughs and revisions to make sure it was good, but I didn't overdo it."
There were many accomplishments earned by Millard West competitors throughout the season. The National Speech and Debate tournament will be located in Dallas, Texas. where all the national qualifiers will meet to compete.