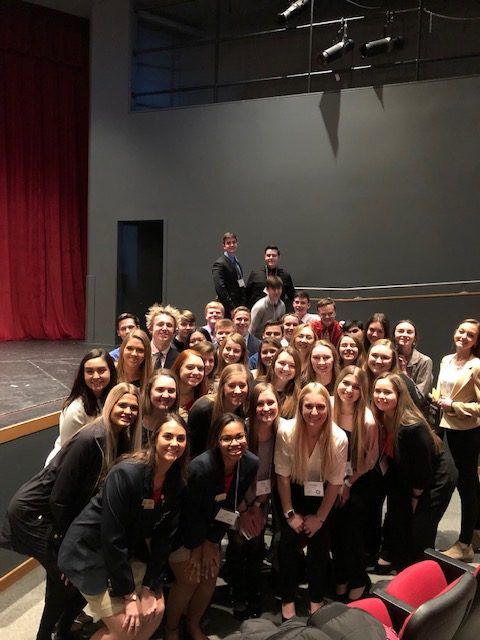 Photo courtesy of DECA
On Saturday, Dec. 20th, the Millard West DECA (Defense and Economic Cooperation Agreement) team traveled to Millard South to compete in districts. Although talks of cancelling the competition due to snow, the event staff decided to keep the doors open.
The DECA team is assigned a project for the competition, they prepare and present their idea and project to the judges and crowd.
Millard West had 38 different competitors in 15 different DECA categories ranging from Marketing and Finance to Hospitality and Management.
Sixteen out of those thirty-eight placed in the top eight, seniors Jessica Burd and Gabrielle Wakefield both placed eighth in Entrepreneurship while senior Gabe Anderson placed top eight in Sports and Entertainment and seniors Anna Dukart and Skyler Hoffner in Buying Team Decision Making.
"I think I performed well my partner and I got top eight in our category," Anna Dukart said. "My partner and I could definitely improve on our role play and our presentation skills."
"Overall, I was very impressed with the Millard West team," president Nick Anderson said. "We beat Millard South, they have a big chapter in DECA, we showed up and performed well."
District Championships happen at the end of each season to test the contestants on their presenting and ideas.
Even though districts are over, the DECA candidates continue to practice for even more awards in the future.
"I think I just need to go over more roleplays so I can be better prepared for state," senior Ava Bonner said. "Millard West is typically a smaller chapter, but I was so proud of how well we placed."
Even though the season is almost over, Anderson hopes more people will join DECA.
"A lot of people don't know about DECA," Anderson said. "It prepares you for the real world and helps with business education"
The State Championship for DECA will occur on Apr. 14th and 15th where the senior officers will have the chance to present their project. The top three state competitors will move onto the International Championships that will be held in late April at Orlando, FL.