CenTENo performs 10/10
Senior volleyball player leaves paw prints to follow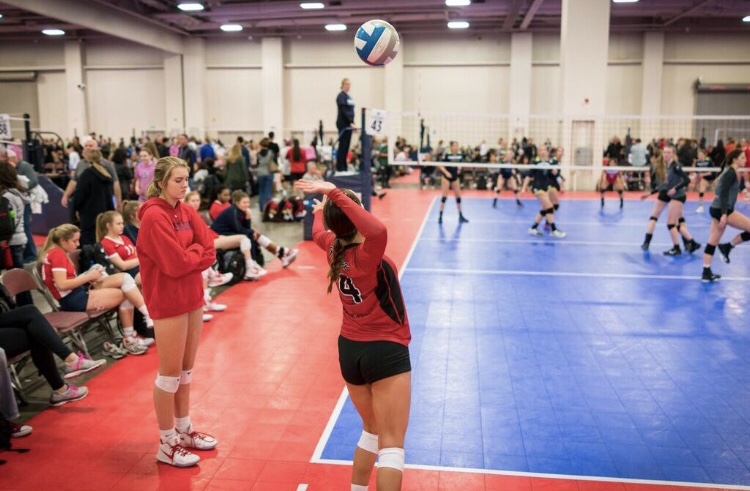 From the far left side of the court, senior Jaiden Centeno dives for the ball, flattening not only her hand, but her entire body as she leaps to make the save. Leaving no time for error, her teammates execute the game winning point. The Wildcats are District Champions.
Since the age of 12, Centeno has played the defensive position of libero at Premier Volleyball and Millard West. Throughout her high school volleyball career, Centeno has laid out a path for future Wildcats, however, in her final year she has left a legacy that will be remembered for years to come.
At the conclusion of her senior season, Centeno was selected to play in the 36th Annual Nebraska All-Star Match; something she's been working towards since she landed a spot on varsity as a freshman.
"Being able to play in the All-Star Match is something my whole high school volleyball career has revolved around," Centeno said. "It is one of the main things I have worked for and dreamt of playing in."
The All-Star Match, an NCA sponsored event holds matches for both girls and boys basketball, softball and volleyball which will be held on July 23, 2019. Students are nominated and evaluated based on statistics from both their career and their senior season itself. Centeno, the only Millard West volleyball player to be selected for the All-Star Match, will play alongside other athletes from around the state of Nebraska, who were once her competitors.
In preparation for her All-Star match, Centeno practices with her club team, Premier 18 Gold, goes to the gym and spends time at position training. In total, Centeno dedicates over 12 hours to train and strengthen her body.
"Jaiden is one of the most hard working student-athletes we have had the privilege to coach," head coach Joe Wessel said. "She does not get flustered and puts 100% effort and grit into each practice and match. Her volleyball IQ and ability to see plays unfold is unlike any defensive athlete we have had at Millard West."
This distinguished volleyball player not only represents Millard West, but also the state of Nebraska. In 2017, Centeno attended several days of tryouts at Pipeline to the Pros where athletes from all over the country and even outside of the U.S. come to exhibit their talents in the sport of volleyball.
Out of hundreds of girls, Centeno was selected to play on Team USA, one of the highest ranking teams of the event. For five days, she trained with her teammates from 8 a.m. to 8 p.m., totaling up to 60 hours of training. The days following her training, Centeno alongside her 11 teammates, played for five days of intense games tournament style. The 5 foot- 7 senior displayed her talents well and brought her team to a second place victory out of hundred of teams.
Back home to her Nebraskan roots, Centeno has made nothingless of a difference here at West. As a libero, she holds three school records for the number of digs in a match, in a season and in a career. Her unforgettable performance has allowed her to commit to a Division-1 school for volleyball. Centeno chose: Iowa State University, to further her academic and athletic career.
"Jaiden has the ability to take her game to the next level," Wessel said. "She is attending Iowa State which produces amazing defensive athlete and we look forward to watching her play and representing the Wildcats at ISU."
The sport has been a part of Centeno's life for several years and her lasting impression fuels her passion for the game.
"I always dreamed of being the best volleyball player and end up being famous for volleyball, but I never believed it would come true," Centeno said.
The sport is a part of her life and is something she claims as her own. Although following the footsteps of her older sister and mother, Centeno acknowledges the fact that volleyball is a sport of her own.
"Not trying her best was not acceptable and the easy way out was never an option," Jaiden's mother Tammie Centeno said. "As long as this effort was there then we were proud even if she failed."
For a persistent and devoted athlete like Centeno, her future shines bright. Shortly after graduation, she will trade in her Wildcat jersey for a Cyclone as she begins training for her collegiant team. On July 23, 2019, Centeno will return home to represent her hometown in the All-Star match one final time.
About the Writer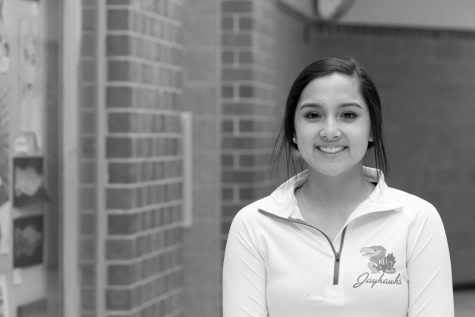 Brianna Tretter, Staff Writer
Brianna is a transfer student and is closing out her senior year as a staff member of the MWHS Wildcat News. Prior to Millard West, Bri held a position...