Cake: A Controversial Debate
Sexual orientation discrimination laws may prevent homosexual couples from carrying out the simple task of purchasing a wedding cake
Hang on for a minute...we're trying to find some more stories you might like.
Charlie Craig and David Mullins ambled into Masterpiece Cakeshop with a binder in hand, eager to determine what cake should be served at their wedding. After sitting down with the baker and store owner Jack Phillips, they were turned away. Phillips would not bake a cake for a same-sex couple, leading the couple filing a complaint to the Colorado Civil Rights Admission.
While CCRA sided with Craig and Mullins, along with Colorado state courts, Phillips appealed to the Supreme Court, citing his First Amendment right to express his religious belief was breached. The case began in 2012 and six years later a decision was made. On June 4, 2018, the Justice Anthony Kennedy wrote the opinion, which was in the favor of the bakery, allowing Phillips to refuse service to the couple.
Same-sex marriage was legalized in 2015, yet there are still major problems facing homosexual couples. However, the ruling did have a unique outcome.
"What's critical is that this reasoning is a one-time ruling for this case only," national legal director of the American Civil Liberties Union and defendant of Craig and Mullins David Cole wrote on the Washington Post. "The court made clear that states are free to require businesses, including bakers, to serve gay and lesbian customers equally, including in the provision of wedding cakes. In fact, Charlie Craig and David Mullins could go right back into Masterpiece Cakeshop today and request a cake to celebrate their wedding anniversary – and if Jack Phillips refused them, he would have no First Amendment right to turn them away."
Masterpiece Cakeshop v. Colorado Civil Rights Admission had a clear lack of support for same-sex marriage equality in the case. The reason behind this is sexual orientation is currently not a protected class, meaning business owners can refuse service to a gay couple. Phillips could still reject the offer to bake a cake if he doesn't use the First Amendment to back up his argument. Religion is almost a non-factor in this struggle because it can no longer be an excuse for company owners. Unfortunately, cases similar to this may cite Masterpiece Cakeshop v. Colorado Civil Rights Admission in order to reach a conclusion. This could ultimately lead to more discriminatory practices.
This blatant legal loophole is appalling. Allowing homosexuality discrimination in a public environment breaks Rights 1, 2, 3 and 7 of the Universal Declaration of Human Rights, which cannot be present in the world's "most free" country. Even with the banning of using religion as an excuse, the motive for turning couples away is difficult to determine. The United States should not have a discrimination issue 50 years after the Civil Rights Movement.
The country has a major discrimination problem that has launched to the forefront of politics, however this is a humanitarian debate. Though there is no simple solution to this issue, laws need to be reformed. An extreme religious bias will get in the way of any potential pushes to end this discrimination, although it should not be a variable in deciding laws so crucial to social progression.
It should be a basic human right to receive service from any company, no matter race, sex, gender, religion and sexual orientation. The ACLU is making major strides to end this, evident by Cole representing Craig and Mullins in the case. Hopefully, they will achieve their end goal of public equality and lessen the legal restraints on homosexual Americans.

About the Writer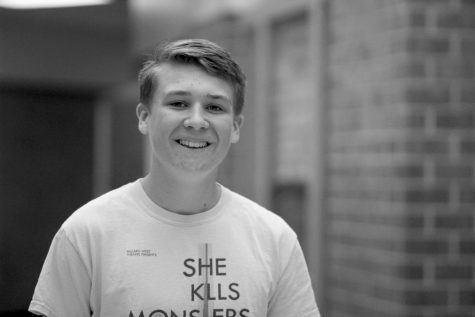 Edison Geiler, Opinion Editor
Eddie is in his first year on the journalism staff. After realizing that writing was a possible future for him, he joined Advanced Journalism forthwith....