A Very Determined and Creative Mind
Going the extra mile to become the best you can be
Hang on for a minute...we're trying to find some more stories you might like.
Senior Elbryan Bartek-Ramold is a person that thinks outside of the box. He is determined to achieve his goal, which is to become a filmmaker. He has his mindset on this goal and because of this he goes the full mile to achieve anything.
Ever since he was little he has known that he wants to create films and is planning on doing just that in his future. He works long hours to make sure every film he makes is perfect until he thinks it is good enough.
"I started making short films because I love writing and i've always wanted to be a part of that community," Bartek-Ramold said. "I definitely want to be a filmmaker for my career. I'm going to film school in LA and hope I can do something with that."
He is planning on doing life changing things when he leaves high school, as he plans his future for college, and even when it is time to go into the real world. The world has great things planned for him as he moves forward in life.
Everyone that Bartek-Ramold encounters, and has become close with believes that he will make it in the world as well as in this profession. "He is very determined and once he sets his mind to something he won't stop until he thinks it's perfect," senior Selena Alvarez-Schmidt said." I think he has more than what it takes to make it to what he wants to become. With him applying to film school and having his plays performed at school he's already had a big start. He also has a producer that is interested in his short movie."
A person have to be able to get out of their comfort zone to tell a story in detail and to make everyone feel like they are a part of the film, and he has done just that. He thinks differently than others and this is going to help him in the future. They have to be able to think differently to achieve big things. To create something that is different is a challenge but that is a challenge that he is willing to take.
"I knew I wanted to do anything creative whether that means music or acting or film making and honestly I wanna do it all," Bartek-Ramold said. "I love the detail put into creating anything and I wanna get my story out there. I wanna create all kinds of films that anyone can relate to. I want to tell those stories in ways that no one has thought of before."
Caden Bye has been friends with Bartek-Ramold for many years and he has always said that he\ is going to do great things in life. He has started off young and this will be an advantage of his.
"Once he sets his mind to his goal he won't stop," Bye said. "Even if obstacles come into play he will find the best way to get around them and keep moving forward. He works hard and doesn't stop until he feels the need to."
Bartek-Ramold has recently started working on a new film that will begin production in the next few months. He has been working on it with two of his friends.
"Cole Filer and Caden Bye are both going to the same film school as me and we are gonna be living together," Bartek-Ramold said. "We work on a lot of projects together. Our most recent short film that we start filming in January is called Of Butchered Pigs which was featured as a play in the most recent Drama Showcase."
Bartek-Ramold strives to be the best person he can be and he doesn't care what anyone thinks of him. He will be crazy and wild, yet so confident in himself at the same time. Bartek-Ramold has always had a creative mind and will go the full mile to go outside of his comfort zone to create something great. Having this mindset will help him through life to help him achieve his goal of being a filmmaker and it will help him go far and go to great places.

About the Writer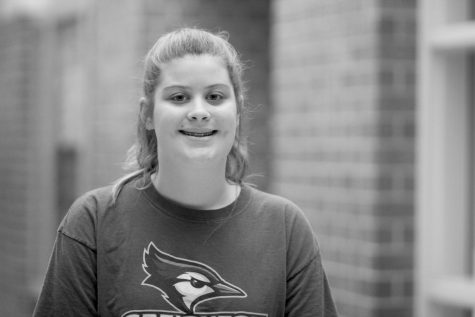 Genna Platte, Staff Writer
Genna is a senior and this is her first year in Advanced Journalism. She is graduating in December and going to school to major in Journalism. She enjoys...