Jon Bell is on the Mic
Jon Bellion Shows Inner Feelings on New Album
Hang on for a minute...we're trying to find some more stories you might like.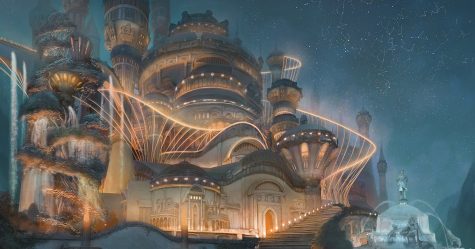 "Life became dangerous the day we all became famous." With Jon Bellion's popularity sparking with his last album, The Human Nature in 2016, he had to rise and deal with a complete change in his life. In his newest album the song "The Internet" capitalizes on this change. Before this album, his most successful hit was "All Time Low," reaching number 16 on The Billboards Top 100 Hits.
Glory Sound Prep is Bellion's second  studio album, coming out two years after his last success. The American born singer, songwriter and rapper has always created music, different from most others. His last album and this one are very similar as Bellion pulls sounds that by themselves are not appealing to the ear and using them in a way that highlights his vocals and the song's meaning. Although that part of Bellion isn't my favorite, consistency is one of the hardest things to keep in music, and Bellion has created a brand and stuck to it unlike many stars who try to change with the times.
But with Bellion, there's no need to change if it never got old.
The first song on this album is a love song of sorts for his wife. "Conversations with My Wife" begins with Bellion explaining his dreams of imaginary mistakes he has made . In those dreams his wife helps him and is there for him whether to save him from lions or sleep on the concrete.. He uses the dreams to show that even his subconscious is deeply in love with his wife. The chorus begins with the beat slowly dropping out and Bellion's voice is left. This creates a melodic sound with a piano chord played over and over. With a catchy vibe and easy-to-sing-to lyrics, this song is the perfect pop-alternative love song. He sings, "who cares about the plaques on my wall, you're still the only thing I've done right," which perfectly sums up his meaning in this song.
"Stupid Deep" is on the opposite side of the scale of "Conversations with My Wife." From a love song to a song about the love's scars, creating a "stupid deep" hole in his chest. This song confuses me. Bellion has a beautiful voice, from a mournful melodic temproment in this song to him raising his voice and adding almost sad yelling to show the sadness he was feeling writing this song. Here he uses a flute to create the flow from vocals to instrumental and back again, weirdly creating a beautiful mix between the hard beat Bellion calls his own and a new style with his music. This song is one of my favorites. It uses many different elements to create a song that is surprisingly soft, but packs a punch with the lyrics. My favorite line from "Stupid Deep" is when Bellion sings, "when the love I really need is stupid cheap." Love is free, yet he cannot fill the hole. Poetically tragic.
"Life became dangerous, the day we all became famous, no one cares if you're happy, just as long as you claim it." "The Internet" is a fun song about Bellion's experience with fame. Here he sings of basically faking it until you make it. With the strong beat Bellion is known for, this song shows a side to famous people that fans don't always see. He sings of the illusion fame creates. From faking "the good" to happiness to material things, Bellion sings of faking it because the truth to things is only as important as what people see. He wants to change this in the world of music but in his words "how can we stop something, not even there. We're going down and we don't even care." After listening a few times I realized that he was poking fun at the material world of fame.
One of my least favorite songs in this album is "Couples Retreat." It is a very cute song about dancing away problems with his wife, but I get lost in the chorus. And not in a good way. Bellion sings changing pitch in between beats and it sounds like his voice is breaking up. The lyrics are good and the beat is catchy, but if he hadn't changed pitch so frequently, I would enjoy this song. This song also incorporates old Bellion with the new beats and it sounds amazing until his voice sounds like its fading out in between beats. The pre-chorus is classic Bellion and I love it, but I cannot get over the chorus. So Bellion, "Come say sorry with your body, come and dance with me."
Overall, this album has a variety of songs from melodic love songs like "Conversations with My Wife" to songs of sadness to rapping songs, like "Adult Swim." Somehow Bellion pulls together a cohesive album using so many different types of music. But can we expect anything less from the "All Time Low" singer who got his fame from a song about his lowest points? Bellion has shown a great versatility in this album, which hadn't been shown before. I'd recommend this to anyone needing new music. I know it will be in my shuffle for months to come.