It's Now Or Never
Students first and last shot to go to Nationals
Hang on for a minute...we're trying to find some more stories you might like.
After being a student at Elkhorn South for her freshman through junior year, senior, Hannah Green wanted a change. Green decided to transfer to Millard West for her last year of high school.
Without any hesitation Green decided to put herself out there, trying out for the cheer team at West for the new season. Soon after tryouts, she found out that she was a new member on the varsity sideline cheer team as well as competition team.
All Star cheer played a part of Green having a secure spot on the team due to the amount of skills she had gained at her previous gym, Elite Cheer. Participating three years at Elkhorn South, Green had been exposed to a whole new side of cheer. High school and all star cheer are very different sports but do have many similarities as far as tumbling, stunting and dancing.
"Elkhorn South had a great cheer program and I had a good experience overall," Green said. "But I needed to be pushed more and reach my full potential and I felt that Millard West could do that for me."
With it being her senior year, Green wanted to get the full experience.
On the sidelines she will have the opportunity to travel with various sports teams from the school to away games. Cheering on the Wildcats will be an adjustment for her due to cheering for another school and mascot in the past. The cheers, chants and band dances also vary from school to school, this will require her to learn them before the season begins.
Besides the sidelines, Green will be competing alongside her teammates on the competition team.
This is very high caliber team that requires a set certain abilities as well as talent. Many tumbling skills including jumps to tucks, layouts and fulls. These are being thrown throughout multiple sections of the routine. Routines consist of an opening section, a cheer and and ending section.
She has been with this team since April and has been non stop practicing with the team ever since. She practices about four to five times a week for an average of 9 hours on top of cheering at games and competing at competitions.
"She has contributed a lot to the team so far this season with her hard work and dedication that she shows every practice" varsity cheer coach Stefane Lane said. "I'm looking forward to see what else she will put out on the floor."
"Millard West has always gone to Nationals as far as I can remember," Green said. "Being able to compete there has always been a dream of mine."
The team from Millard West is very well known throughout the nation for previously bringing home 10 national championship wins in the past years, Green knew that she wanted to be on this team. On the team, she would get a shot to experience Nationals for the first time before her high school cheerleading career would come to an end. Millard West has got a bid and attended this competition in Florida every year. Nationals is the biggest high school cheer competition in the and has thousands of teams across the nation competing.
Millard West has been off to a good start bringing back all first place titles at the two competitions they have competed at this season. The goal in the end is the same as every year, bringing home another national title and the white jackets. If the team brings back another win, this will be the third time in history that a three peat has occurred. With hard work and many practices to come the team must push themselves to the limit. Green as well as the rest of her teammates have progressed and contributed this season by getting new skills to help improve the overall difficulty of the routine.
"This team has pushed Hannah to work to her full potential and to always give it her all no matter what," Green's mom Heidi Green said. "I think she has adjusted to her teams as well as the school very well."
Although this may be her last year cheering in high school, Green is considering cheering in college depending on where she decides to attend next year. Either way she will continue to support her school until the end.

About the Writer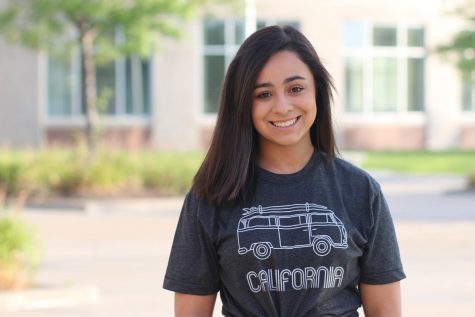 Jasmine Hermosillo-Padilla, Online Editor
Jasmine is a junior at Millard West and this is her second year on the CATalyst staff. She loves to meet new people and learn their stories and who they...