Swimming For The Gold
Sophomore gets national recognition for his talents in the pool
Hang on for a minute...we're trying to find some more stories you might like.
Swimming in Nebraska, the home of the Olympic swim trials, is very competitive throughout high schools across the state, giving them the dream of competing in the Olympic swim trials one day. Sophomore Mateo Miceli knew this dream all too well.
Miceli has loved swimming ever since the age of 10. He joined the Millard Aquatic Club then switched to the Sarpy County Swim Club at age 14. Once he reached high school, Miceli realized his ability could take him far in swimming.
"I became nationally involved in swimming at the age of 12," Miceli said. "But once I was about 14 years old I truly realized that I could do something big with my swimming ability."
Recently, Miceli got the chance to compete at the USA Swimming Winter Junior Nationals in Austin, Texas. To qualify for this competition, Miceli had to get a qualifying time of 57 seconds in the 100 meter backstroke and under 50 seconds for the 100 meter butterfly.
Miceli placed 20th out of over 100 swimmers at the nationals event. He has continued to prove himself as a dominant swimmer even against the best competitors in the nation.
After Junior Nationals, Miceli now is the third best high school swimmer in Nebraska among all ages.
"It was an unreal experience being able to swim against the best of the best," Miceli said. "I also saw a lot of people I look up to swim alongside me and it was just very humbling being able to compete with them."
As a sophomore, Miceli's recruitment is still very open. He has looked into multiple division one colleges like Berkeley, Florida and the University of North Carolina. Along with swimming, Mateo knows the importance of setting himself up for success by attending a college that offers good programs in his fields of interests.
"I am looking into coastal schools primarily because they are good at swimming," Miceli said. "I also want to choose a college that has a good law program for my major. My parents want to make sure wherever I do end up going, that it is a good fit for me academically along with my swimming ability."
Miceli and his sister, Senior Isabella Miceli, both swim. Their relationship has grown through all of the long hours of practices and meets spent together. She has been with Miceli throughout his entire journey swimming.
"I was at the meet when Mateo got the time he needed to qualify for junior nationals and it was probably one of the most exciting moments in my life," Isabella Miceli said. "I was so proud of him because it brought all of his work full circle. Everything he had put into the sport of swimming paid off in that one moment."
She is there supporting him in his highest wins and lowest losses. The relationship between Isabella and Mateo has grown along with the relationship with their coaches on the Millard West swim team.
Coach Jamie Bowcott has helped Miceli and the Millard West swim team with his conditioning program for the offseason. Bowcott has seen Miceli grow into a much better swimmer and person.
"He is one of the hardest workers on the team," coach Jamie Bowcott said. "He sets a great example for the other swimmers even as a sophomore. He has grown tons in the past year and has already set a school record."
The Millard West swim team has attended three meets this season. Miceli has only been able to swim in one meet because he has been training for Junior Nationals. Although he hasn't been able to attend every meet, he still supports his team at practices.
Miceli has already broken the 100 Butterfly and Backstroke record and looks ahead to break the 200 individual medley. 

About the Writer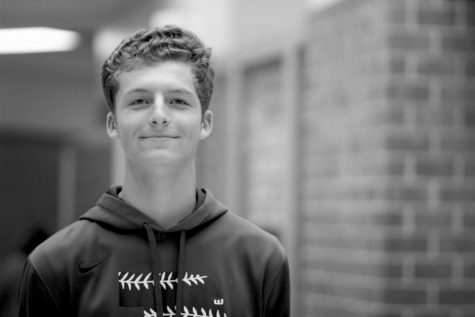 Matthew Pleiss, Staff Writer
Matt is new to Advanced Journalism this year. He enjoys writing sport stories, food reviews, and opinion stories. He plays baseball for the Millard West...