Rebuilding the Wildcats
Millard West Basketball looks to make a statement this year
Hang on for a minute...we're trying to find some more stories you might like.
This upcoming 2018-19 Millard West varsity Boys Basketball team is looking for a rebound after a rough 12-12 record last year. This season the basketball team has no returning starters and only two seniors to help lead the team.
Making varsity as a freshman is a very hard task to do, but having playing time in the big varsity games is very rare to see. Peyton Buscher is a three year varsity player for the Millard West basketball team, and will be looked to as a leader for the team that is mainly composed of juniors. Buscher's basketball career took off his freshman year when he made the varsity team. During his sophomore campaign, he continued down the varsity path. He is now planning to be a vital leader on the team.
"I know that since we are a young team a lot of opposing teams are going to sleep on us," Buscher said. "I think we will surprise a bunch of other schools and make a name for ourselves this season."
This past season, the JV team finished with a fantastic 18-2 record, the team was full of sophomores who are looking to make a splash to the varsity court this year. Junior guard Nathan Glantz, forwards junior Zach Olson and sophomore Evan Meyersick and centers senior Jacob Harmdierks and junior Tristan Gomes.
As sophomores last year, Glantz and Olson found a spot on the varsity team, but did not see any valuable time. Now juniors, they are hoping to be a big part of the team's success.
"Making varsity as a sophomore was a pretty cool thing, but being able to be a top contributor to this team this year will mean a lot more," Glantz said. "The state, and many others don't believe in us this year, but I feel very confident that we will make a name for ourselves and shock the state. We are a young team this year, but our hard work and dedication are going to carry us a long way down the road."
This past fall, Glantz played backup quarterback for the varsity football team. Although he didn't have as much playing time during football season, he looks forward to playing a key role on and off the court.
The Millard West coaching staff saw a very big jump in athleticism compared to last year at tryouts. The team is full of different types of players with a variety of ways they can play. Head coach Bill Morrison has high praise for this team and sees a whole lot of potential in this unit.
"I think by the end of the year we can be a top 10 team if we play together and continue to improve," Morrison said. "It may be a rough start because we lost six seniors that played and because we are a little banged up from football, but we have the chance to be very good. Hopefully, we will be a better practice team than last year."
Last winter, the team was led by seniors Brock Burling and Giavonni Guido. Burling led the team with 14.1 points a game and 5 assists. His partner is crime Guido helped him out with 10.6 points per game and 5.5 assists. The young Wildcats now are losing a big part of the team and will need players to step up to fill these spots.
While other students might see this season as a rebuilding year, the players and staff still have a goal in sight, improving every day and then making it to Pinnacle Bank Arena in March.

About the Writer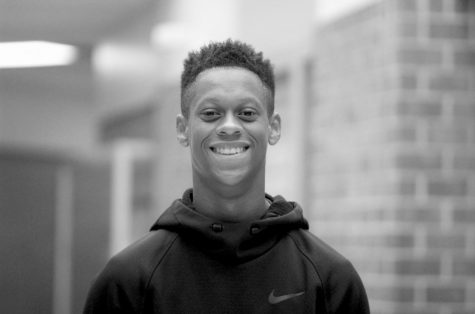 Dalys Beanum, Staff Writer
Dalys is a junior and in his first year of Advanced Journalism. He enjoys writing sports stories, and is also a sports guy himself he plays football, basketball,...