The Islanders Take On The Cats
The Cats look to keep the season rolling against Grand Island in week 7.
Hang on for a minute...we're trying to find some more stories you might like.
This Thursday night, (5-1) Millard West faces off against the undefeated Grand Island Islanders. The top 5 opponent will pose the Wildcats' most arduous challenge this season. Both teams are going in this game with confidence considering West's strong win against Kearney last week and Grand Island's perfect record.
Unfortunately, some issues against Kearney last week with star Millard West running back, Jackson Wright resulted in a suspension for this upcoming game. In the first six games, Wright powered through 524 yards rushing and 10 TDs.
He played a key role in the Wildcat offense, but now back-up junior running back, Ethan Valencia, will have to step up tonight. He does hold a fair 126 rushing yards on the season with just 16 attempts.
"My game plan is to run hard, do the best I can and trust the process," Valencia said. "To support my size at running back, we implemented a 3 tight end set. Other than that, I'm just gonna do everything 'J Wright' does."

Another great offensive weapon Millard West carries is explosive junior wide receiver Dalys Beanum. With 415 receiving yards and 6 TDs, Beanum has been leading the wideouts to an efficient passing game. He shows slick moves on the kickoff and punt return team keeping the special teams interesting. On the defensive side of the ball, Wildcats' senior defensive backs, Gabe Anderson and Pryce Dornbier, show lockdown pass defense and a hard hitting ability. Along with hefty d-linemen Cole Aniello and Matt Huser, the pass rushing defense should complement well with the defensive backs on Thursday.
"Our defensive is going to have to get turnovers and our offense for sure is gonna have to score," Beanum said. "The coaches also implemented some new play packages that we'll get to show off on game day."
On the other hand, Grand Island's leader, dual threat quarterback, Cole Evans threw for 823 passing yards and rushed for 222 yards in the last six games. He has been the key offensive player for the Islander's high scoring performances and looks to continue that trend at Buell. As well, running back John Reilly earned 535 rushing yards and 10 TDs, putting him on Millard West's radar. Adding on to the colossal offense, the Islander's defense has already nine interceptions on the year and looks to boost that number for the games ahead.
Both the Wildcats and the Islanders show great talent in many aspects of their game. Surely, the two teams have had rich seasons, but 7 o'clock tonight on the gridiron, we'll find out who will end up on top.

About the Writer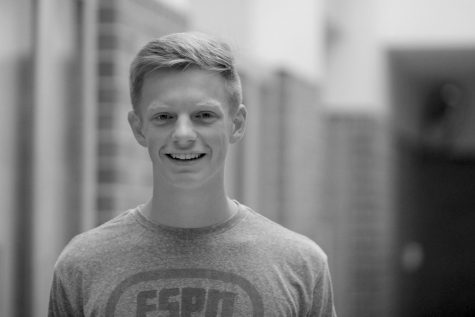 Aaron Mittlieder, Assistant Sports Director
Aaron is a senior and in his first year of journalism at Millard West. He enjoys all sports and loves how journalism can get him connected to athletics...