Music Never Dies Even if the Artists Do
Old music has it's way of making the rounds again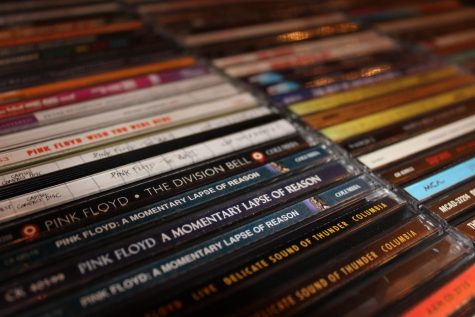 The sweet sound of John Lennon and Paul McCartney harmonizing perfectly rings throughout the room while the record spins round and round. Ringo on the drums and George strumming the guitar. Each word sang with meaning and soul. Except it's 2018, not 1968.
Music transformed the way people live out their lives. Whether a song is being danced to, sang along to, or just purely listened to. Modern music continues to make listeners feel a certain way, however, there is nothing more genuine than the music our generations parents and grandparents listened to and felt the feelings that the song protrudes, whether it's a love ballad, sad song or a overall feel good tune. Music is on a never ending cycle. Songs, artists and albums flourish even after years even decades have gone by.
Although decades have passed since many artists from older generations took the world by storm, it seems as though they continue to thrive into the 21st Century. Old music never dies. Whether it's the youth or elders, music from the 50's and so forth are constantly being played on radios or featured in movies. In movies and popular music today, we can all find little bits of nostalgic music intertwined within.
It's not just parents who listen to older music, many of today's youth have found enjoyment among artists like The Beach Boys, Pink Floyd and David Bowie. As children become exposed to more music as they grow older, the youth want to get a feel for where modern music came from. The appreciation of older music emerges as the youngsters grow. The roots of today's music comes from those oldies, but goldies.
Much of this era was inspired by decades that have passed. Whether it's fashion, trends or of course, music. Just the other day, I coordinated my outfit to resemble the classic Audrey Hepburn look. The flower-child Hippie look has made its rounds in today's fashion industry as well with a BoHo twist. The hottest decade to trend now in 2018 seems to be the 90's. With chokers, lots of stripes and print, crop tops and edgy, clunky boots.
I know that what I listen to now has been greatly influenced by my parents. When I was a toddler and would ride in my dad's car, we would always jam to Fleetwood Mac's Rumors. After swim lessons my mom would play Sarah Mclachlan (not the really sappy song though).
Before the age of 10, I had a fairly broad spectrum of music I listened to. Of course, I had my Hannah Montana and High School Musical CD's, but often times I would play the beloved Beatles on my high-tech boom box. It's not just me that has a high appreciation for 60's and 70's music, a lot of today's youth has a love for those classic oldies.
Even popular artists today are releasing new music with a nostalgic feel to it. Paramore's newest album After Laughter has a spunky beat similar to popular music from the 80's. Some of the 1975's music from the album Love Me has an 80's sound as well. An older, but common sound among many Indie musicians tend to resemble a sound that is familiar to the Baby Boomer generation as well.
Music has no expiration date. No matter how old or new, it makes an imprint on the music industry. I hope in future generations the circle of music continues. Whether it's 60's 70's or 80's music or any other decade, the music will not be forgotten when another year passes.