Another Year in Blockbusters
2018 promises to be as great a year for big movies as the last one
Hang on for a minute...we're trying to find some more stories you might like.
Last year movie fans were gifted with a wide variety of modern classics. From the summer blockbuster season to autumn Oscar candidates, 2017 will be a year remembered by movie goers for generations.
Looking to the future of Hollywood, the next 365 days promise to be even better than the last. While there are dozens of films to be next in line for, there are a few big budget releases that deserve to be talked about.
Moving past the January slump and going straight into February, audiences will receive the  year's first blockbuster in Black Panther. Set in the hidden land of Wakanda, a rich country hidden in the jungles of Africa, this is the first solo black superhero movie since Spawn (1997). It  looks to be a going in a totally different direction from what Marvel has done in the past. Its unique setting and cast list alone is enough to get all fans into theater seats.
March 30th marks the release of Ready Player One. Steven Spielberg's next directorial effort takes place in the world of Ernest Cline's classic novel where the whole world is out to find the prize hidden in the most popular video game in history. Filled with pop culture references and headed by such a big name, this one is nearly guaranteed to be a show.
Superhero movies have been done many ways. Studios have filled them with heart pounding action, written them as full on comedies, or even spun them into serious psychological thrillers. The New Mutants marks the first time a major comic book movie has been adapted as a full on horror. It remains a mystery as to how audiences will receive such a different addition to the X-Men franchise but, with the talent put in front of and behind the lense, that's no reason to doubt that a scary superhero movie couldn't work.
This one should go without saying; Avengers: Infinity War hits theaters this May, being the first of a two part climax to everything Marvel has done since 2008's Iron Man. Featuring team ups like Captain America, Doctor Strange and the Guardians of the Galaxy, this will be an explosion with the CGI done by Disney and being the first ever movie to be shot entirely in IMAX, long time fans will be rewarded with stunning visuals and hopefully, even better action and story.
The second X-Men movie this year will be the still untitled sequel to Deadpool. Without even having a proper trailer or even a storyline to look forward to, the character's last film alone is what causes all the talk of the June release. Hopefully as funny and as action packed as the first, Ryan Reynolds's next outing as the red tights-wearing, anti-hero is something to look forward to this summer.
In 2004, Pixar released The Incredibles. Fourteen years later, the sequel will finally be available to grown up kids everywhere. Like Deadpool, there isn't much to go off of story and marketing wise but the mere thought of seeing everyone's favorite super family dawn the capeless costumes once more to fight whatever evil they are going to fight will send fans of the original back to their childhood this June.
The third and final Marvel Cinematic Universe addition of 2018 will be Ant-Man and the Wasp. Being the first release in the franchise after Avengers: Infinity War, where this movie falls on the timeline remains a mystery. Whether it takes place before or after, the two shrinking heros will hopefully live up to the standard of everything the studio has done so far; in other words, greatness.
After Disney got the back the film licence to Spider-Man, it was a huge mystery as to how Venom would still be produced. Being a movie about the web slinger's biggest foe but set in a world where he don't exist, a solo movie about a villian with no hero sounds like a risky move. This mixed with an all time great like Tom Hardy, an actor that couldn't give a bad performance if he tried, in the lead role, there's not a single aspect of Venom that doesn't seem like a reason not to get excited.
Two months later marks the release of another movie involving the wall crawler: Spider-Man: Into the Spider-Verse. The fully animated film about the Miles Moralis version of the hero in a light hearted, family adventure. Even though it is still a Spidy film, it could not be a more different film than Venom. Despite the apparent differences, both look to be very promising.
This next year looks to be action packed. With a slew different big budget movies coming out this year, everyone should find one they enjoy.

About the Writer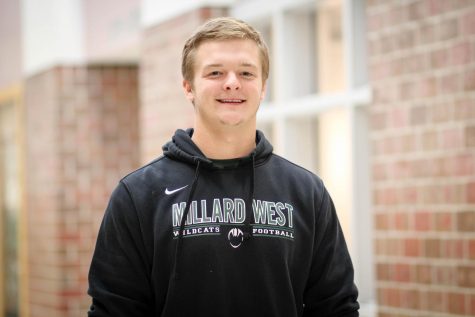 Jack Ward, Cartoon Editor
Jack is in his first year of working on the newspaper and is the new cartoon editor. Outside of cartoons he also enjoys writing about sports, news and...