Guilty on Both Sides
NFL National Anthem protests tensions rise.
Hang on for a minute...we're trying to find some more stories you might like.
I remember a time when people could just read a book, watch a new movie or listen to their favorite music without being assaulted by the political opinions of everyone working in entertainment.
It was great. You could like any kind of music or movies you wanted and no one antagonize you for it. That was just a few years ago. Now you can't even watch sunday football games without having to pick a side on political issues.
After the 2016 NFL season, 49ers backup quarterback Colin Kaepernick, started what would eventually make national headlines when he decided to kneel for the playing of the national anthem. After being declared a free agent when his contract expired, no other teams showed enough interest in signing him. He and the media made it out to be because of his controversial peaceful protests. While this could be true, it is highly unlikely considering his lackluster stats and that he wasn't the player he once was and would most likely have never played the next season anyway. Now unemployed, he is still in the public eye as a voice for equal rights.
One year later, Kaepernick's influence is still present on NFL sidelines every week. Each game had more knees than the one prior. When week three came around with what seemed like dozens of football players refusing to stand for the national anthem, and it relaunched the entire issue back into relevance of whether it was an ethical form of protest and, a heated debate that continues to divide the nation.
The players have said that they aren't attempting to disrespect the military, but rather they are still sticking up for equal rights like Kaepernick was. The only problem with this is that it doesn't change anything to help the people they say they are speaking for. It is just virtue signaling and nothing more. There are real things they could do to help like donate money to black charities or do volunteer work in African American neighborhoods or even run for public office. That is how you make a change in the world.
But who am I kidding, kneeling is much easier than that.
Don't get me wrong, morally I could not disagree with players that decide to kneel anymore than I do, but I also believe it is wildly inappropriate for a political figure to try to get someone fired from a private organization. The government shouldn't have any say in how the NFL allows its players to protest. As disgusting as it is disrespect the colors men and women have fought and died for, it is a constitutional right to do so. It's not the president's place to object. The White House shouldn't bully an entire organization into doing something that isn't hurting anyone just because they don't agree with it.
Of all those against the protests, the loudest, most powerful voice was that of President Donald Trump. All he saw was a group of overpaid men who work once a week to play a game complaining about being discriminated against.
"The NFL has all sorts of rules and regulations," Trump Tweeted. "The only way out for them is to set a rule that you can't kneel during the National Anthem!"
The president had a lot more to say than just that. He went so far as to label the players that kneel "S.O.B.s" and even called for their jobs. I understand what he is trying to say; he wants the athletes to stop showing such disrespect for their country but the way he is going about it is all wrong. His wild reactions only angered more and more players and fans alike. I completely agree with the point he is trying to make but if he had handled the situation better I don't think that it would less of an issue.
Whether you agree with Trump or not, he and his supporters won the fight. Come week four, the number of protesters on the field was estimated around 40 total throughout the league compared nearly one third of the entire organization the week before; mostly players from the 49ers and Browns. The terrible ratings from the NFL boycott forced them to take a stand or accept the nosedive in viewership.
Players have already found alternate means of protest like politically charged touchdown celebrations or T-shirts bearing their messages. While I can see Trump not being satisfied with this compromise, I think this is the best he's going to get.
With that said, it isn't hurting anyone and I don't think anything has to be done about it.
The football players are trying to stand up for black oppression and I can definitely sympathise with them but not the way they are going about it. Whether they mean no disrespect or not, American servicemen and women aren't the ones working against them and that is who the song is in honor of, not unequal rights. Their protest doesn't really make sense but showing resistance against oppression without a call to action really makes them feel important.
The games themselves haven't changed it's just what goes on during the star-spangled banner which no one ever watched on TV until a year ago. I miss the days when not everything was politicized for someone's agenda. That's just the world now. I hope one day we can go back to the way things were where you could just say what you believe and not have one half of the country say you are a terrible person. 

About the Writer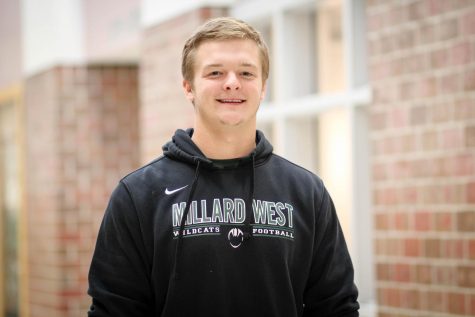 Jack Ward, Cartoon Editor
Jack is in his first year of working on the newspaper and is the new cartoon editor. Outside of cartoons he also enjoys writing about sports, news and...