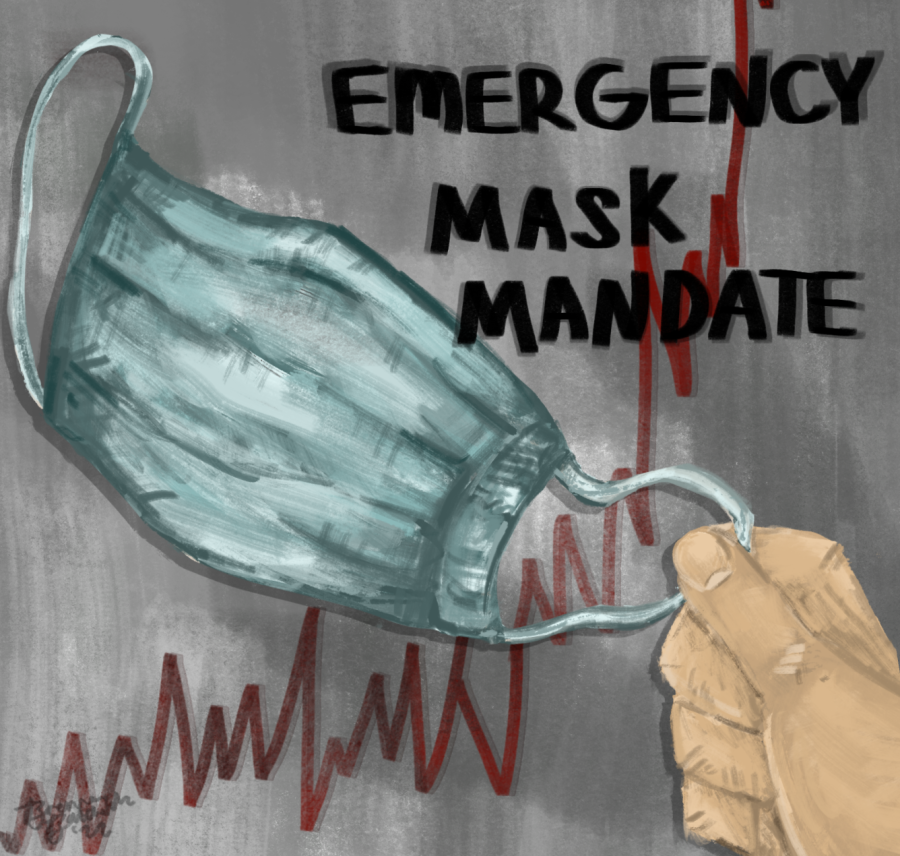 Cartoon by Brenna Batchelder
COVID-19 cases in Millard are at an all-time high. The number of active reported cases in the district sat in the high 200s and low 300s throughout early January and has risen to the high 300s. As of Monday, Jan. 24, there were 397 active cases reported in the district.
These numbers reflect a nationwide trend as schools continue to grapple with the pandemic and a wave of the Omicron variant sweeps the country. Many districts, such as Westside Community Schools, implemented mask mandates before students returned from Winter Break. Some, including Omaha Public Schools, have had them in place since August; a survey of the largest districts in the U.S. showed three-fourths starting the 2021-2022 school year off with mandates. Millard, the second largest district in the metro area, avoided taking action even as cases climbed. At a board meeting in early January, Superintendent Dr. Jim Sutfin said they had no plans to require masks unless a citywide mandate passed, saying the city "cannot expect that the school district on its own can fight COVID." Six teacher unions from the Omaha area also called for a citywide mandate, saying "we need strong mitigation efforts that impact the entirety of our community."
After weeks of arguing among the city council, school boards, Mayor Jean Stothert and Gov. Pete Ricketts, Douglas County Health Director Lindsay Huse delivered. An emergency mask mandate took effect in Omaha on Wednesday, Jan. 12. The mandate applies to those ages 5 and over in any public indoor space, including schools. 
Despite being a clear issue of public health, the mask mandate has been twisted into a political issue. As a result, Nebraska's Attorney General, with the support of Ricketts, filed a lawsuit against Huse, claiming the city health director does not have the authority to implement control measures for infectious diseases. While attending an indoor event in Omaha at Physicians Mutual, Ricketts did not wear a mask, despite the mask ordinance and signs around the building asking attendees to wear a mask. Millard students should not follow Ricketts' example. 
If we want to keep people safe and keep schools open, we need strong safety measures in place. More importantly, we need people to follow those safety measures, so respect the mask mandate (and do it the right way). Wear your mask correctly; that means it covers your nose and mouth at all times, even if a staff member isn't looking. If you have access to N95s or surgical masks, use those — studies have repeatedly shown they are more effective than cloth masks. Ensure your mask fits your face without gaps or slipping (which may cause you to touch your face frequently). Continue to follow the mandate outside of school in all public indoor areas. 
With COVID-19 cases rising not just in the district, but in the Omaha community at large, it is especially important to follow the mandate wherever you go. Hospitals are being overwhelmed beyond their capacity. Staff shortages in schools due to COVID-19 have led Millard to implement remote learning days. Testing shortages across the state and nation are making it difficult to contact trace or quarantine. We need masking until we can get case numbers back down, clear hospitals up and have enough resources to test people. 
This is a community-wide issue. In schools, students and staff are in close contact for long periods of time. If someone contracts COVID-19 at school, they often carry it out into the community before they realize they have it. The data proves masking is an effective way to slow the spread; as reported by NPR, studies have shown masking "significantly curbs transmission from student to student." Studies have also shown that masks are highly effective at preventing an infected person from spreading the virus, more so than they are at preventing people from contracting the virus. With numbers as high as they are, most people have been exposed recently, though testing shortages and asymptomatic cases may mean you don't know immediately if you've contracted the virus. Even if you don't care about getting COVID-19 yourself, you should care enough to do what you can to prevent spreading it to others. 
Almost two years in, pandemic burnout is weighing on us all. Many of us are "vaxxed and done," ready to move on with our lives and forget about contact tracing, social distancing, remote learning, testing, quarantining, isolating, sanitizing, vaccinating and masking. From teachers to students to administrators to politicians, we're all tired of it. But we can't stop now. We're breaking records in the pandemic and dealing with a higher number of reported cases at one time than we've seen before. Wearing a mask is, quite literally, the least we can do to keep up the fight and protect our community.
Following the ordinance is also the least we can do to uphold the values of "Be Kind" that Millard endorsed a couple of years ago and that students have seemingly forgotten about. If not for your own safety, wear a mask for the healthcare workers who are struggling with overcapacity and staff shortages in hospitals. Do it for the low-wage essential workers who are losing pay or using up vacation days when they get sick. Most importantly, do it for your teachers who are burnt out dealing with staff and sub shortages, policing phones, and patrolling bathrooms and halls. Ask yourself if it's really worth it to get into it with a teacher or administrator just because you don't feel like wearing a mask. After issues this year with etiquette in the hallway, bathrooms and classrooms, this is a time for us as a student body to redeem ourselves and show that we are capable of thinking about other people. If we aren't even willing to wear a mask for a few hours to protect our friends, neighbors and community, then we clearly don't really value the things we say we do as a district. It's time we think about something other than ourselves by following the mask mandate.