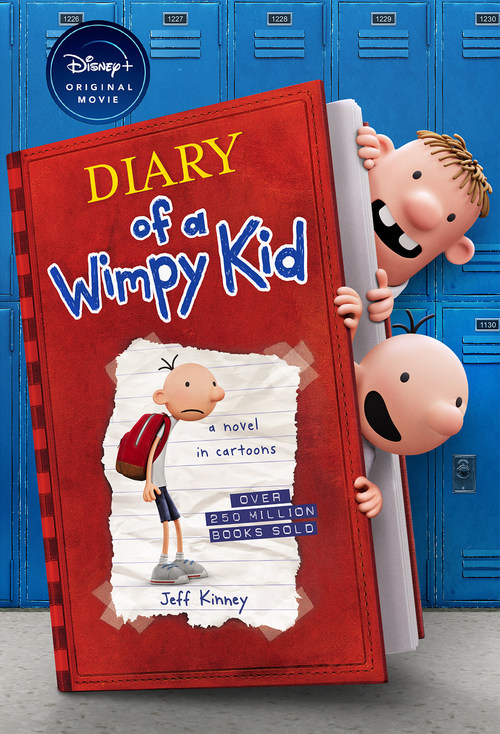 Picture from: PR Newswire
Many of Jeff Kinney's famous books have been made into movies but never animated. "Diary of a Wimpy Kid" hit Disney+ on Dec. 3 and follows the first book in Kinney's series. Being a big "Diary of a Wimpy Kid" fan, my expectations were high; unfortunately I was unpleasantly surprised.
The movie followed the original book "Diary of a Wimpy Kid" where Greg Heffley (Brady Noon) and his best friend Rowly Jefferson (Ethan Williams) try to survive middle school together. The movie still had the flair of the book and the live action movie but lacked some key aspects that I think were needed.
While the movie took a unique approach it lacked some specific  events in my opinion. For example, a very famous scene in the series is the cheese touch series where a boy named Sirag saves Greg from getting the cheese touch and then tells him the backstory of it. Instead they have Roderick (Hunter Dillion) tell the backstory to Greg. I think it would've been better if they kept that same scene because it would have made the movie better.
Also, the movie was about 58 minutes long. I think this left out the opportunity to introduce these characters which made the movie less enjoyable. It needed more to it than what was presented in the movie. I think they needed to add Holly Hills and how Greg was obsessed with her like in the first movie and how Patty Ferrel and Greg would fight constantly. Also, I think they could've added Angie, the girl they find under the bleachers in gym class, because she appeared throughout all of the live action movies and was Greg's friend as well. There was not really any time to include the characters, so I think that making the movie a tad longer could fit room to include these key characters.
One big thing about this movie I could not get over is how dramatized it is. There were many scenes where they would zoom in and play music while the character sweats. A specific scene that comes to mind is where Roderick is telling Greg about middle school, and the screen is dark and scary music is playing. These kinds of things come with animated movies, but I think it did add a different and exciting twist. 
This movie did have some good things about it though. One thing I really like about this movie is how the animators really made the book characters come to life. The book characters compared to movie characters were almost identical in the way they look and the way they acted. Greg was still a dorky kid that was just trying to be cool, Roderick was still the jerk older brother and Rowley was still a little kid at heart. 
I think one of the best parts of the whole movie was the ending. In the end, Rowley and Greg come back together to be friends again after their fight. This really made me feel good inside because the two were friends again. It really showed true friendship and sent a good message. 
Overall, this movie was nothing special. It is perfect for younger kids because it is just a more dramatic version of the live action film made in 2010. I think they lacked key events and characters that were needed in this movie. The good part about this movie was the characters still had that flair and same attributes as in the books and other movies.
3/5