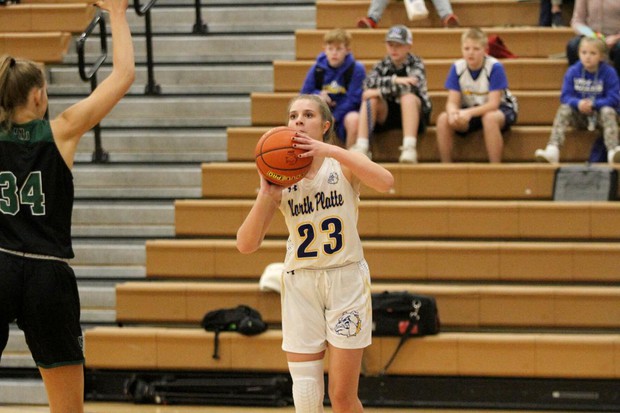 Photo courtesy of North Platte Public Schools twitter
In a hard-fought game, the Millard West varsity girls basketball team fell just short to North Platte. 
North Platte started the game off hot, making three straight field goals to gain a 6-0 advantage. After both teams struggled from the floor on their next few possessions, the Wildcats answered with a three-pointer from freshman Neleigh Gessert to make it 6-3 with 4:41 left in the first quarter.
North Platte would go on a 4-0 run, pushing their lead out to 10-3 and prompting a Millard West timeout. Following the timeout, North Platte got a steal that resulted in a transition three-pointer to extend their lead to 10 points at 13-3. A three-pointer by junior Libby Hoffman and two free throws cut the deficit to five, but North Platte quickly responded with a three-pointer of their own on the other end. The first quarter came to a close with the Wildcats trailing 18-11. 
"We were mentally tough and never gave up," head coach Marc Kruger said. "We battled through a lot of adversity by not shooting well, not getting calls, but we kept fighting and gave ourselves a chance to win. I was expecting us to play better than we did; shots didn't fall and the losing at the end at the buzzer on kind of a fluky play was really difficult to swallow, but we showed a lot of heart and kept competing the entire game."
The Wildcats and Bulldogs traded baskets to start off the second quarter. Both teams went cold after that, and no points were scored for the next three minutes. A three-pointer and two free throws by sophomore Taylor Hansen extended the North Platte lead to 12 at 25-13. Hoffman answered on the next possession with a three-pointer of her own, cutting the deficit to 25-16 with 3:32 to play in the half. Freshman Norah Gessert would make a layup on the next possession, but that wwe the final points of the half. Millard West went into the locker room behind 25-18. 
"I think going forward some things we can improve on are taking longer and better possessions," Hansen said. "During the North Platte game, everyone was feeling the nerves everyone feels in the first game. We resorted to chucking up shots in the first eight seconds of the possession which didn't help us."
North Platte converted on a three-pointer to open up the third quarter to extend its lead to 10 once again. Millard West went on a 4-0 run to cut the lead to six, prompting a timeout from North Platte. Neither team would score again until North Platte converted a three-point play to extend their lead out to nine with 1:52 to play in the third quarter. Millard West ended the quarter on a 4-0 run, capped by two free throws from junior Makenna Scholting. 
Millard West opened the fourth quarter just like how they closed the third, going on a 5-0 run to tie the game at 31 apiece on a layup by junior Grace Kelley. North Platte responded, scoring five straight points to take a 36-31 lead with 4:55 remaining in the game. The Wildcats got as close as 39-37 with three minutes to play. North Platte would extend their lead to two with 27 seconds left after Millard West got called for a technical foul. Millard West took the lead for the first time on a three-pointer by Hoffman with seven seconds left. North Platte hit a shot at the buzzer to defeat the Wildcats, 41-40. 
"In our first game of the season, the team really struggled to rebound and get good offensive possessions," Kelley said. "We were often rushed on offense and didn't play at the pace we talked about and practiced before the game."
Hoffman led the team in scoring with 14 points, while Neleigh Gessert added 11. Millard West will be back in action on Friday, Dec. 10 against Bellevue East at home.