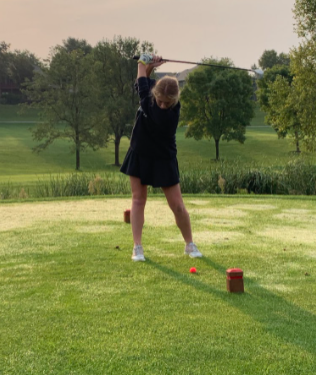 On Sept. 20, five girls Including, senior Brooklin Oltman, sophomores Olivia Gurley, Kailyn Kerkemeyer, freshman Lily Weston, and Addyson Otten competed against many schools at Willow Lakes Golf Course. 
At the Bell West Invite, it was a shotgun tee time so everyone started at the same time of 9 a.m. Coach Jessica Lindblad took the girls and led them to each hole. . This JV tournament may have been difficult for some of the players keeping in mind there was a hole basically 500 yards. Obviously, there was lots of walking to do throughout the course, but they managed to finish with no quitters. 
Kerkemeyer might have struggled with this tournament based on her score, but focused on taking her time. When she moved on from previous holes she made sure to forget the last shot and move on. One good thing is she excelled in her putting, usually with two putts. 
"At this tournament, I did not play as well as I wanted to," Kerkemeyer said. "I struggled with my drives and shots in the fairway. I thought that my putting and chipping was good though."
Coach Jessica Lindblad helped the girls throughout the tournament in working hard on there goals. Telling them certain shots to do and what is the right club for the shot. 
"The girls were excited to play and see if they could PR," Lindblad said. "However, the day turned out to be a struggle for most of them, fighting to keep their heads in the game and not be overcome by the previous hole. Overall, the team scored a 420. Placements will be announced next week as far as where the team stands compared to the others."
Weston, a new member of the golf team just joined this year and is already competing better than some sophomores. Her shots are consistent and make it easy for the game of golf. During the tournament, she scored a breathtaking score for a freshman. 
"I think I did well during this tournament," Weston said. "I maintained a good consistent score front nine and back nine of exactly 50 on both, and I ended up shooting 100."
At the tourney played at Willow Lakes, the girls totaled a score of 420. Each player averaged 84, meaning they shot less than five per hole. Overall, there can be room for improvement for some players so we can get medals.