Finished in Record Time
Swimmer joins cross country and beats school record
Hang on for a minute...we're trying to find some more stories you might like.
A cross country runner looks up and can see the finish line ahead. Heart  pumping fast with adrenaline as senior Gabby McGinn fights through her staggering breath trying to push through the fatigue in the last mile. McGinn looks up, sees the clock and knows she is capable of beating her previous times.
While running the 5k, McGinn set a new record at the Heartland Nike Regionals in South Dakota. She finished with an astonishing time of 17 minutes and 30 seconds.
"When I decided to quit swimming it was a really big decision," McGinn said. "I have swam as my main sport for as long as I can remember so quitting was very difficult."
During this time, McGinn realized how competitive she actually was. While McGinn still swam, she would run during her time off for fun. Unfortunately, she got injured many times from going back and forth from running to swimming. McGinn gave up swimming her sophomore year of high school and concluded she would like to stick with running.
"I decided I could do more damage running than swimming," McGinn said. " I know how determined and hardworking I am and I knew I'd be able to succeed. I knew I had the ability to beat records if I worked hard enough. Sure enough it paid off."
In preparation for meets, McGinn works out every other day. The days she's not working out she is running. McGinn says the tip is to push the hard days harder and the easy days easier. She follows that motto the best she can. This way she is not overworking herself, but she is able to get the training she needs. This has helped her be able to increase her running speed.  
"Gabby works harder than pretty much everyone at this school," cross country coach Colin Johnston said. "She does everything she's supposed to do and then some."
In preparation for the meet, the cross country team has a pasta feed at one of the team member's house. This allows for them to be able to bond and come together as a team before the race. They are able to relax and calm any anxiety they are feeling before the race.
The day of the race McGinn eats the same breakfast: two eggs, small toast and a banana. McGinn believes this to be the best breakfast for before a race. It gives her the proper nutrition she needs to have enough energy for the race.
"Even the little things like stretching, strength training and eating right she takes into consideration," senior Bailey Dergan said. "It's not just the running she thinks about."
Along with eating a nutritious breakfast she listens to the same running playlist that she has listened to since she was in her sophomore year. Two of the songs on her playlist that she added recently are "679" and "Gold Digger". She said that's what pumps her up the best.
As a team they run two miles prior to the meet then begin stretching. During this time they are talking with each other but when the race begins McGinn puts her earbuds in and keeps her eyes set on the finish line.
"She can push herself even when she's mentally tired and hurt," Johnston said. "Most people aren't able to do that."
McGinn has the persistence that many do not have. This allows her to work hard and achieve more than most people. This year alone, McGinn went from one of the top ten in the state to the top in the state.
Hard work over a few years has taken her to new heights. McGinn will continue with a tough academic and running program in the fall when she begins attending Washington University in Saint Louis.

About the Writer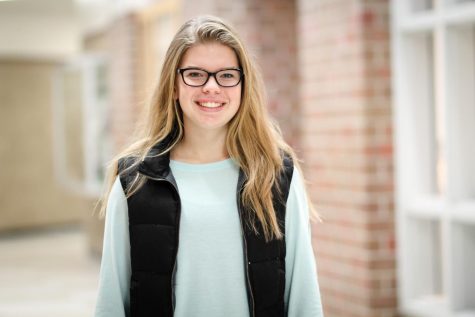 Kaitlin Kocis, Staff Writer
Kaitlin is beginning her first year as a staff writer. She is interested in writing hard news, feature stories and opinion stories. She is involved in...