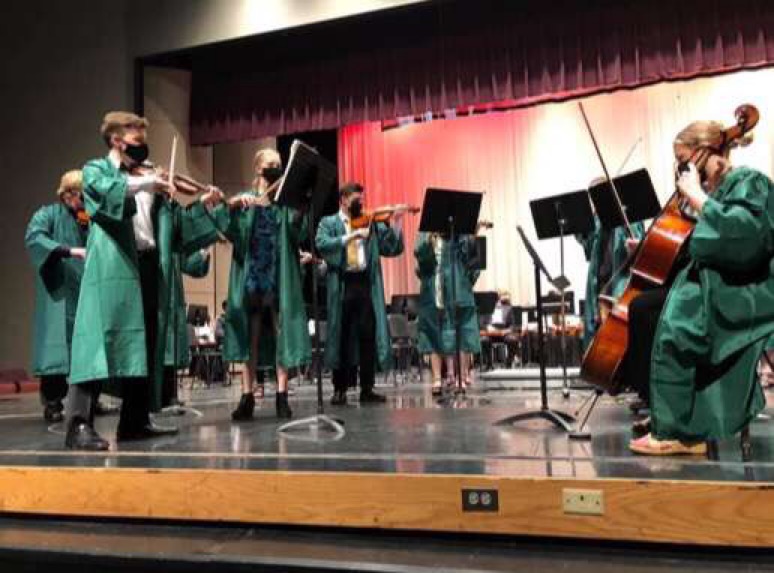 photo courtesy of Josephine Geiger-Lee
The joyous sound of string instruments emanated from the auditorium on Thursday, May 6, when the symphonic and philharmonic groups performed their final orchestra concert of the year. Seats were filled with friends and family, as they were able to watch orchestra students finally showcase their talents.
During the orchestra classes, students prepared during and after school for this performance and made sure that the songs would provide a night to remember for audience members. The concert consisted of songs that were student-selected which made it special for orchestra performers. Through the constant practice of the musicians along with the instruction of orchestra teacher Samuel Zeleski, the concert came together, making it one like never before.
"I can say I really enjoyed sitting down in the middle of the concert to watch the senior ensemble play," Zeleski said. "It is a strange thing to be a teacher because, if I do my job correctly, the students shouldn't need me anymore by graduation. It was a beautiful thing to see them up there doing their thing, playing their music and doing it on their own. Another moment was at the end of the concert when all the seniors lined up for pictures in their graduation robes.  They are a remarkable group of students, and to see them all gathered together like that was powerful." 
This concert honored both seniors who will soon graduate from Millard West orchestra completely as they move on to college, along with freshmen who will be graduating from philharmonic orchestra and moving on to symphonic. While the two groups usually play separately during concerts, they were combined into one big ensemble during this performance.
The chamber orchestra, senior ensemble and quartet were also able to showcase their talent during the show. These groups practiced outside of class, and competed at District music, with their hard work earning them the highest rating possible.
"We got to celebrate each other the whole night – the seniors got to wear their graduation robes, we played senior ensemble and we were recognized in the program – and almost everyone had been in orchestra together since freshman year," senior Josephine Geiger-Lee said. "It really felt like a celebration of our time together."
The heavy student involvement in preparing for this concert made it a unique experience for the musicians. Rehearsing with peers as well as the emotions of the school year and orchestra season coming to an end made the performance special for everyone involved.
"This concert cycle was special because Mr. Zeleski allowed students to choose their own repertoire to play at the concert," senior Luke Skrabal said. "I enjoyed this freedom because it allowed me to group up with some dedicated musicians and play music that is both challenging and enjoyable. Two selections that I played a significant role in choosing were 'Brahm's Hungarian Dances #1' and 'Brandburg's 3rd Concerto.' Both of these pieces are significantly more difficult than traditional high school repertoire and both of these pieces were a ton of fun to work on leading up to the performance."
Restrictions due to COVID-19 have made performance opportunities slim for the orchestra groups this year. However, the musicians were overjoyed to finally get to share what they have been working on with members of the community. While it has been an odd year for the arts, everything paid off in the end when the groups were finally able to perform.
"We have had to follow the same sorts of restrictions that the other groups have had," Zeleski said.  "In many ways we are blessed to not have to use our breath to play our instruments so in that regard it was more-or-less business as usual.  We had to sit in a grid shape for half the year until restrictions were relaxed as we learned more about how the disease was spread.  Our social events were largely curtailed because most involved food.  While we accommodated those changes, they were noticeable obstacles to work around."
Students were filled with a mix of emotions as the last concert of the year drew to a close. The bittersweet combination of a looming graduation and the culmination of months of work made this event special to both students and instructors alike. As the members of the groups move forward into college or a new orchestra ensemble, they will be able to remember this concert fondly.