Competing in dangerous waters
Creative Design students participated in a "Shark Tank" inspired competition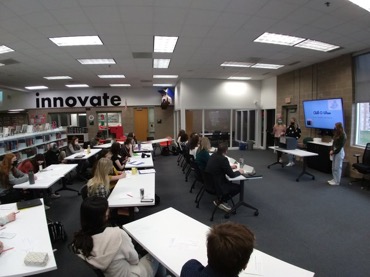 On March 25, Family and Consumer Science (FCS) teacher Eliza Donley's Creative Design class brought their most convincing salesperson strategies to the library in the hopes of winning a Shark Tank-inspired competition.
The project asked groups to create and present original products to a panel of judges, along with presenting their ideas, they were tasked with creating models. The project was heavily student-led with very few guidelines put in place by Donley. The class spent time studying famous pitches from the show and researching the characteristics that make up both good and bad pitches. Seated at the judge's panel was principal Dr. Greg Tiemann, assistant-principal Dr. Jennifer Allen, assistant-principal Casey Lundgren, librarian Mindy Jorgensen, councilor Kelsey Chittenden and Donley. 
"I gave them little to no guidelines to what they could create," Donley said. "They had about a week to work in class, and I left the project pretty open-ended. I really wanted them to stretch their imagination and challenge their creativity."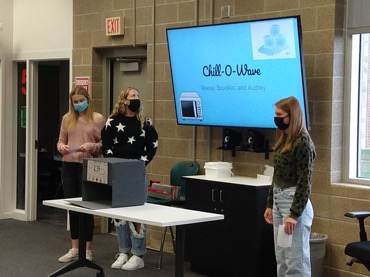 Although coming up with the product itself was among many of the challenges the students faced, they also had to research many aspects of their product that are commonly overlooked by an average consumer. This included finding which colors would grab the attention of their targeted audience and making original products that would ease everyday problems. These new skills and approaches could potentially be major advantages to Donley's students in the future.
"From this project, I learned how to be able to communicate to a higher authority," junior Brooklin Oltman said. "I also learned how to really dig deeper in thinking of problems and going outside the box for solutions instead of just thinking of little things that existed that you could build off of."
Not only was the project engaging for the Creative Design students, but it also got staff members, like librarian Mindy Jorgensen, involved in the judging process.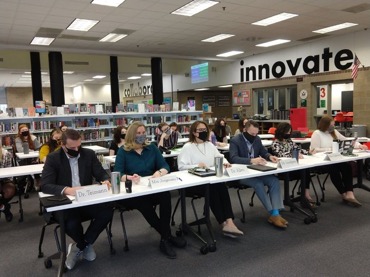 "I was so excited when Miss Donley asked me about being a judge because I thought it was such a great idea and the perfect way for kids to present their creativity," Jorgensen said. "As judges, we were asked to listen and watch each presentation and give scores for certain aspects. We were also given the chance to ask questions about the products for each group and provide written feedback. I was really impressed with the ideas the students came up with and would purchase some of them."
Activities like these are great ways to test the understanding and practicality of the skills students gain from the class. By encouraging students to interact in a new environment and situation, they are able to apply those skills in future endeavors. 
"I think a project like this gives kids the chance to be creative, logical and practice their reasoning," Jorgensen said. "Because we judges could ask any questions, the students had to be ready to answer anything about their product, so they had to be prepared on a deeper level than they would be if they just typed something up and submitted it. The kids had the chance to start from a blank sheet of paper, do research, create a prototype, make changes, present their findings and defend their ideas. In my opinion, this project had students doing all the different skills they need to be prepared to do in most every job they might have in the future."
Donley's innovative project not only involved her students with a fun interactive activity but also engaged other staff members throughout the school. The takeaway students got from this project can greatly benefit their future goals and better prepare them for their post-high school plans.