Wildcat basketball off to hot start
Humm leads Wildcats through an undefeated opening weekend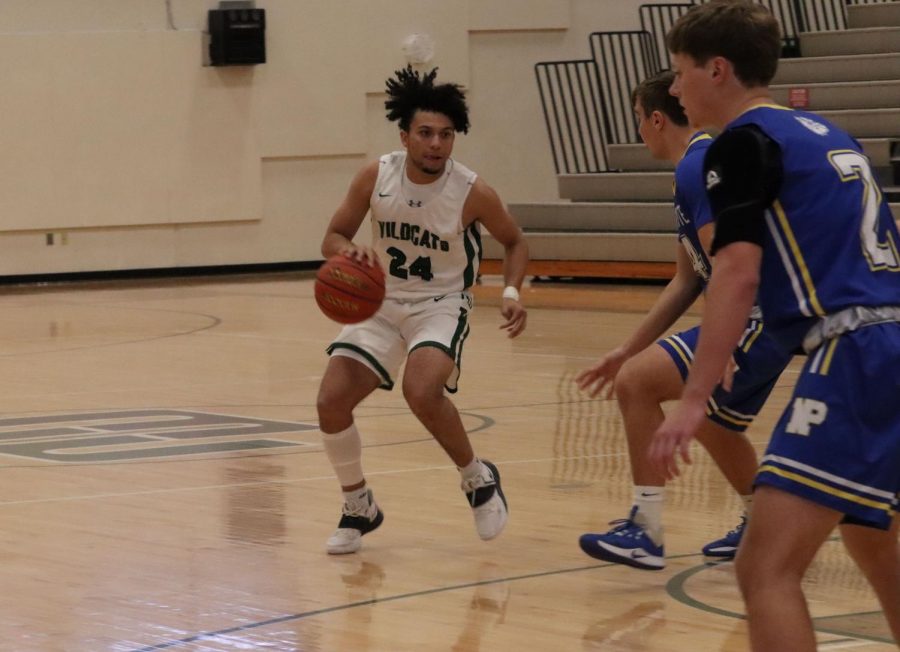 The Millard West varsity boys basketball team opened up their 2020-21 season with pod games against the Fremont Tigers and the North Platte Bulldogs. The Wildcats are coming off of a rough 8-14 season and returned most of their players.
This year, they have a chance to show their improvement in the new pod system. Millard West hasn't had a great basketball season in years, with their last winning season coming four seasons ago. This could be the team to finally put a solid season together, and two early wins could boost some early season momentum for the team.
The first game was against the Tigers, where Millard West had an incredible all around game. Senior guard Dominic Humm came in knowing he would have to set the tone for his offensive production, and he did so in flashy fashion.
"We just wanted to come out of the gate and get things going early," Humm said. "When you sink those first few shots everything else just comes together."
Humm finished his Thursday performance with 21 points, four rebounds, and six assists. After the Wildcats scored 17 points in the first quarter, they wouldn't look back from their lead and won 85-47, putting a dominant performance together in the season opener. Senior forward Evan Meyersick finished with a double double performance, tallying 13 points and 12 rebounds in the paint. 
While Meyersick was doing work in the paint, senior guard Ryan Larsen had the green light from three point range. Larsen finished 4-9 from beyond the arc and put up 14 points to match his four assists.
"You just have to be on from three," Larsen said. "It's better when those shots go in cause it allows us to stretch the floor."
The Wildcats would take the momentum from their opening blowout into their weekend game, facing up against North Platte. The Bulldogs entered the game 1-0 as well, earning a seven point victory over Grand Island Northwest in their opener. The Wildcats got off to a slow start in the first, only entering the second quarter with a two point lead. Then, the offense had a total scoring explosion in the second, outscoring the Bulldogs 25-6. 
This was all behind another huge game from Humm, who tallied another 22 point performance. Humm had some more help from his teammates this game, getting another 14 out of Meyersick and 11 from senior forward Dustin Hatch. Humm will head into the next weekend averaging 21.5 points and the Wildcat offense looks scary so far. 
"I think we just have to keep up our production," Meyersick said. "We just need to keep getting our guys an open shot and keep creating opportunities for each other."
The three point line was the only bad mark for the Wildcats in their second game of the year, with North Platte connecting on ten threes while the Wildcats shot 4-16 from three point range. Their scoring was led by two younger players, with sophomore River Johnston and junior Caleb Tonkinson combining for 29 of the Bulldogs' 51 total points.
The Wildcats finished another complete game with a 77-51 victory, and they'll head into their next big weekend against Bellevue East and Creighton Prep with a senior core that can score from anywhere on the floor. If the Wildcats keep up their offensive production, it could be a dangerous season that has been years in the making. 
About the Writer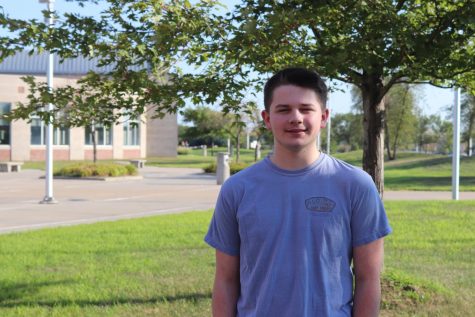 Carson Fox, Staff Reporter
Carson is a senior in his second year of journalism. He is a huge sports fan and loves keeping up with them. In his free time, he likes to hang out with...