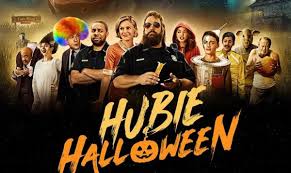 courtesy of EURweb
When watching Netflix I tend to stick to the more classic movies it has to offer such as Forrest Gump or Clueless. I tend to avoid the Netflix original movies because I find them hard to watch. Some can be amusing but many of them are cringey and highly stereotypical. So when I decided to watch Hubie Halloween it was ultimately like I was playing a round of Russian Roulette. 
The comedy horror film was released on Netflix on October 7, 2020. It follows Hubie Dubois (Adam Sandler), a man who still lives with his mom (June Squibb) and always has a homemade elaborate thermos at his side. Hubie is the laughing stock of his town and is often bullied by almost everyone in it. He loves Halloween and is determined to make sure everyone stays safe. Which makes him more dislikeable to the people  ofSalem, Massachusetts. There are only a few people who actually like Hubie, his new neighbor, Walter Lambert (Steve Buscemi), who treats Hubie with respect, but there is something fishy about the man. His long time crush, Violet Valentine (Julie Bowen), voted most pretty and most popular in the yearbook, seems to be one of the only characters who feels any remorse for Hubie. And then his mom, who is often found cluelessly wearing t-shirts with funny sexual innuendos on them from the thrift store. She looks out for Hubie and constantly encourages him to fight back against his bullies. When there start to be disappearances in the town on Halloween night, and things start to get rather odd, Hubie is the first to start getting to the bottom of it. He goes to the sheriff, Sergeant Steve Downey (Kevin James), for help and is turned away as he sorts out who is tricking him and what is real, Eventually Hubie gets to the bottom of it. 
One of the first things I noticed about this movie is the amount of actors I knew and recognized. Some were from Disney shows I watched when I was 10 and some that are prominent in movies now as well. These included Adam Sandler, Kevin James, Maya Rudolph, Steve Buscemi, Rob Schneider, Tim Meadows, Shaquille O'Neal, Ben Stiller, Kenan Thompson, Karan Brar, Noah Schnapp, Paris Berelc, Bradley Steven Perry, Julie Bowen and many more. These familiar faces made the movie more enjoyable to watch as new ones popped up every scene. It felt like finding hidden easter eggs throughout its duration. 
Many of the characters were highly stereotypical. Hubie, the main character, had a speech problem, which seemed overdone, and made the character more annoying and dislikeable despite his kind and friendly personality. It also seemed disrespectful to people who actually have disabilities. It was easy to understand why many characters disliked him. Sergeant Steve Downey played the cool cop who didn't seem to care, he had a mullet and wore sunglasses the entire time. He was the person in the movie who didn't care what Hubie had to say even when he needed to hear it. The love interest was pretty and of course liked Hubie back. Many of the characters just had a big persona which made their character cheesy, and took away from the integrity of the movie. This made the movie more difficult to watch because it felt like a joke the whole time, so the horror part of the plot was hard to take seriously. 
While the characters were over the top, the movie did not lack in the comedy aspect. There were constant jokes and gags which I couldn't help myself from giggling at. Many of the jokes used crude humor and inappropriate language. It wasn't necessarily Hubie that was always funny, as a lot of the humor came from the surrounding characters which made them all that more important to the movie. Many of the small jokes were hilarious, such as all of the news anchors dressed suggestively as Harley Quinn and at the end when you find out who the narrator of the show, a radio host, voice belongs to. 
Along with the comedy, the plot was interesting as well, it did keep me on edge as I waited to find out the reason behind the disappearances and other occurrences throughout the movie. There were many suggestions as to who could be the "killer", the werewolf, or the Michael Myers-like asylum escapee, or the scarecrow. Ultimately at the end when I found out, I was shocked, and did not predict the ending like how I thought I would.  
Overall, the movie was funny, even though it was cheesy and had stereotypical characters. The plot was interesting, not as intricate as a classic horror movie, but it kept me entertained and left the audience with a nice message at the end. It's not a movie I would go out of my way to watch over and over again like Clueless, but it suffices if you are looking for a funny Halloween themed movie to watch with a boyfriend, girlfriend or some other friends.
3/5