NBA crowns bubble champion
Lebron James leads lakers to seventeenth NBA title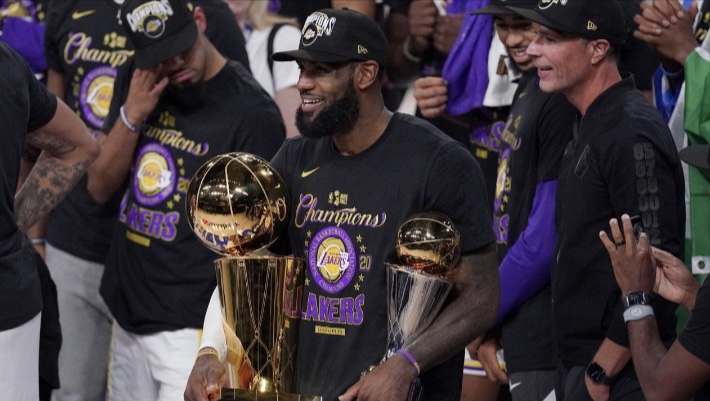 Just over two years ago, forward LeBron James shocked the world when he signed with the Los Angeles Lakers on a four-year deal. After getting injured and missing the playoffs last season, he promised Laker fans through instagram that "the dry spell would end."
Well he ended the dry spell. The Lakers plowed through the playoffs with a 12-3 record over the first three rounds before taking out the Miami Heat in the NBA Finals 4-2. James came away with his fourth NBA Finals MVP award after posting 29.8 points per game, 11.8 rebounds per game and 8.5 assists per game. In the eyes of many, LeBron solidified himself as having a legitimate argument to being the greatest basketball player of all time.
The Lakers opened up the series with a dominant Game 1 win, winning 116-98 and leading by nearly 40 points at some segments of the game. James and forward Anthony Davis, who the Lakers acquired in a blockbuster deal last summer, both combined for 59 points in the blowout victory.
This led the Lakers into their Game 2 victory, another runaway game where the Heat remained close, but could never get over the hump. The Heat fought back in Game 3 however, with forward Jimmy Butler putting on one of the best Finals performances of all time, putting up a 40 point triple double while carrying his team to a 115-104 victory.
Game 4 was anybody's game, and LeBron knew that. He texted the team group chat in the early morning before the game, saying that it was a "Must win." James showed up big time for Los Angeles. Putting up a near 28 point triple double while his supporting cast came through, and the Lakers won a tight game 102-96, giving them a 3-1 series lead. Only one team has ever blown a 3-1 Finals lead in NBA History, and it was when James led the Cleveland Cavaliers past the 73-9 Golden State Warriors from down 3-1 in 2016.
The next game was an instant classic. Game 5, just hours after concluding, was being dubbed one of the best NBA Finals games of all time. Butler and James both posted massive stat lines, with James having a near 40 point triple double, and Butler lofting a 35 point triple double, matching his Game 3 performance. In the final minutes, it seemed like a one on one pickup game, with Butler and James trading blows back and forth after L.A. erased a 13 point deficit. Butler got the last laugh when Danny Green missed a wide open three to allow the Heat to cut the series to 3-2 in a 111-108 barn burner. 
LeBron wasn't about to blow a lead though. James capped off another historic Finals performance with a 28 point triple double in an absolute mauling of the Heat, winning 106-93 in a game where the Lakers led by at least 30 almost the entire game. James had fulfilled the second promise of his career, bringing home a title to Los Angeles just ten years after the late Kobe Bryant last did for the Lakers. James was awarded his fourth NBA Finals MVP award, becoming the first player to win a Finals MVP with three different franchises. 
"Laker nation wants they respect," James said while holding his MVP trophy. "And I want my respect, too."
This was also the first title for Anthony Davis in his career, winning it eight years after he was drafted by the New Orleans Pelicans in 2012. The longest wait however, was for Dwight Howard. The future hall of famer won his first title 16 years after he was drafted in 2004, finally gaining redemption for his first failed stint with the Lakers in 2012 and his multiple career hardships. 
The Lakers made their mark and became the kings of the bubble after a turbulent season, a six month hiatus, and a full-proof return to play plan that produced some of the best basketball in years. The Los Angeles Lakers were the team to finally make the bubble burst.
About the Writer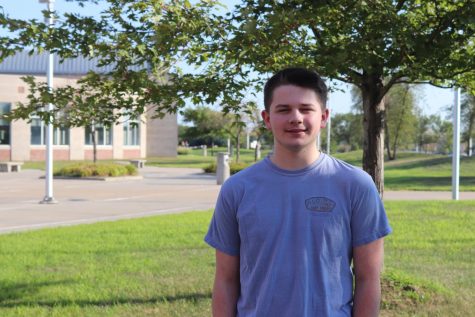 Carson Fox, Staff Reporter
Carson is a senior in his second year of journalism. He is a huge sports fan and loves keeping up with them. In his free time, he likes to hang out with...