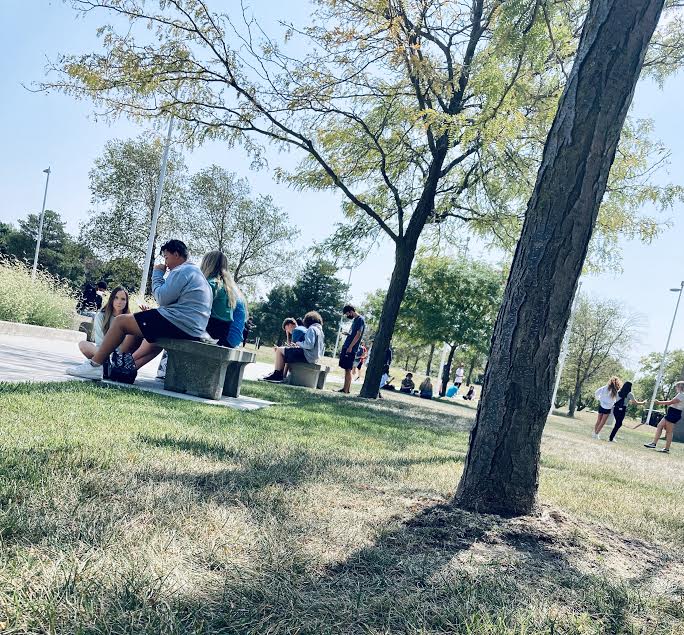 Photo by Madison Brandis
With the new school year starting,  new requirements such as having to wear masks in the building and the new sanitation procedures have changed students' daily routines. This year, Millard West,  along with many other schools are trying hard to enforce social distancing as much as they can. With that, students have seen many changes to lunch. 
One of the biggest differences to lunch this year allows students to eat outside as well as in the commons and main hallways.  Another new approach to lunch this year is the 45-minute lunch instead of 30. The length of lunch has been changed so they have time to sanitize and lunches aren't overlapping that students were in. The principle has also asked teachers and staff not to let their students go to lunch any earlier than their scheduled time.
Along with the new lunch schedule, many studies have shown that students who are indoors for most of the day are linked to anxiety and depression. It is also shown that spending time outdoors reduces heart rate, blood pressure, anxiety and stress. Being outside can also boost your mood, attention span, memory and concentration. With lunch now being 45 minutes and the longest break in a student's school day, more options and being able to eat outside is important and outside dining should continue to be in place for the future. 
"I think the option to eat outside is beneficial to students because it is more relaxing and a more comfortable environment compared to inside," junior Ariana Shelton said. "I feel like we have more space and aren't all crammed together like we usually are."
Another great thing about being able to eat lunch outside is that students can take the ever-important mask break.
The Pennsylvania Health Department said "There will be a limited number of instances in which students will be allowed to remove their face coverings, these include while eating or drinking, or during an activity that makes mask-wearing unsafe. Students can also take their masks off during 10-minute face-covering breaks."
Furthermore, I think that masks breaks should be allowed when students are in need of them and of course during lunch. Mask breaks should also be allowed during quiet reading time or a no-talking-time so they're not emitting as many aerosols with social distancing in place. 
This school year is a test and a learning experience for everyone and we all should work together to create a positive place for students to learn. The outdoor lunch option is a very beneficial thing for students mentally and physically because it allows them to be more comfortable and to take mask breaks during their long day at school.