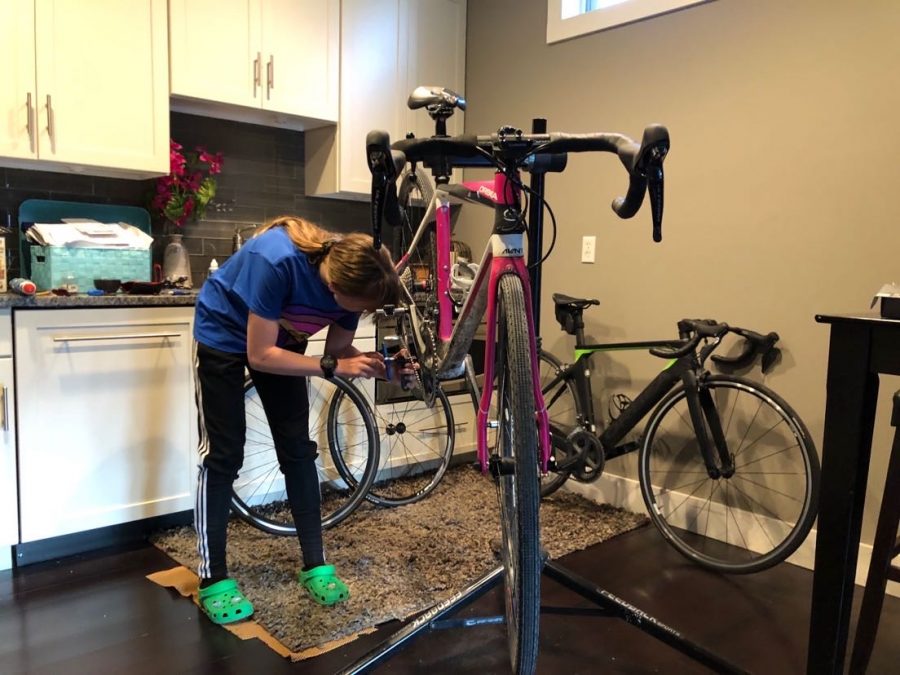 Photo courtesy of Emmi Gilbert
Due to the COVID-19 outbreak, many people have found themselves stuck at home with plenty of free time. To fill the time that would normally be spent at school, work, or hanging out with friends many students have started new hobbies they can do at home. 
To pass the time while stuck at home, sophomore Eva Gould has started baking. She and her family have made many cakes and other sweet treats they can enjoy while in quarantine. She has been using her grandmother's recipes to bake everything from scratch. Baking has given her family a new way to spend time together during the quarantine. 
"I have found baking to be relaxing and something fun to do when I am bored," Gould said. "It's something easy that I can be fun and creative with while stuck at home."
Sophomore Alex Elsasser has taken this opportunity to spend more time doing what he loves: photography. Although the circumstances are not ideal he is still able to make the most of this time. He has been working on taking portraits as well as pictures of nature. With help from his sister, Elsasser is able to take portraits. He has also worked on self-portraits by setting up his camera and tripod.  
"Photography is a great way to keep myself occupied during quarantine," Elsasser said "I've spent a lot of time coming up with photoshoot ideas and taking pictures to keep myself busy. I see it as a creative outlet I can use while stuck at home."
Freshman Maddie Olderog has been spending her time documenting her quarantine in vlogs. Olderog has been making daily vlogs for two weeks about her daily routine. She was inspired by Colleen Ballinger, a popular creator on Youtube, who as also been vlogging while in quarantine. Olderog spends all-day recording what she and her family are doing. She also includes clips that her friends send her to add variety to her vlogs.
"When I found out that school got canceled for an indefinite period of time I decided to try out vlogging," Olderog said. "I wanted to give myself something to do while at home, while also documenting a crazy time in our lives and the world." 
One of the only ways to get out of the house is to go outside on a walk or, in the case of sophomore Emmi Gilbert, a bike ride. Gilbert has been spending her afternoons biking to get in extra practice for triathlons which she normally trains for during the summer. She bikes roughly 40 miles a day about five days a week. Gilbert is also working on becoming a bike mechanic and spends time in quarantine learning to repair bikes.   
"Biking helps me to get out of the house and move around," Gilbert said. "After I finish my school work in the mornings I can spend my afternoons out of the house."
While being stuck at home can be boring these students have found a way to enjoy their time.