Kansas City's wait is over
Chiefs end 50 year Super Bowl drought with win over 49ers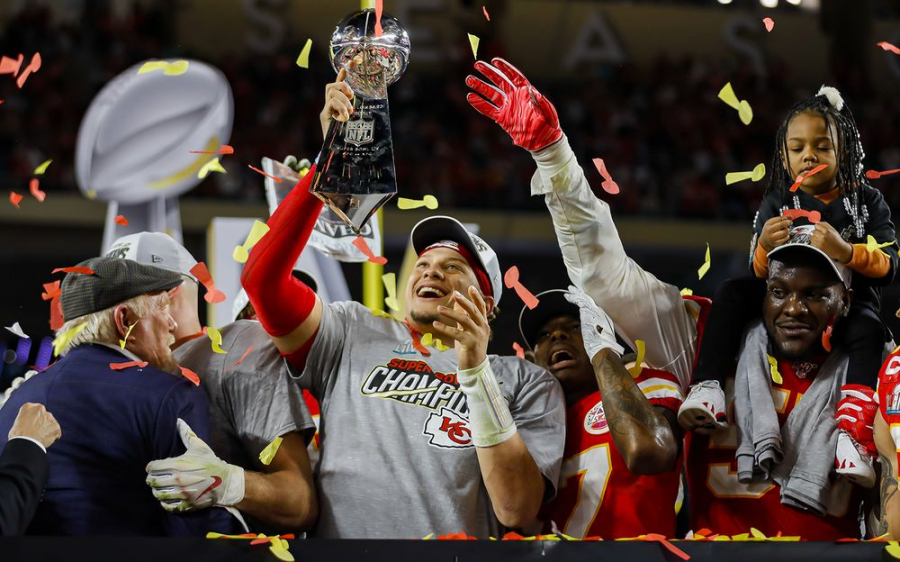 Three years ago, Patrick Mahomes was a doubted top ten draft pick. Not many people believed he would be a starter at the NFL level. He spent his rookie year as a backup behind former Chiefs quarterback Alex Smith.
Now he's a Super Bowl Champion and Super Bowl MVP. After heading to Texas Tech as a three star, his road wasn't easy. He had multiple obstacles on his road to the NFL. Then after breaking records and throwing multiple touchdowns a game, he got his crack at the NFL. Mahomes is now the only player in NFL history to win a NFL MVP, Super Bowl MVP and a Super Bowl in his first three seasons.
It wasn't easy for Chiefs head coach Andy Reid either. The 61-year-old has coached for most of his life and had yet to win a Super Bowl. Super Bowl XIV was finally his shot. Reid isn't a man of many words. He's marveled by fans and the media and many people are proud of him for winning his first Super bowl.
"I'm going to have a big cheeseburger tonight with extra cheese, maybe a double," Reid said when asked by ESPN about how he would celebrate. "It's gonna be the biggest cheeseburger you've ever seen."
It was a major Super Bowl Sunday. Viewership rose for the first time since Super Bowl 50 between the Carolina Panther and Denver Broncos. This year's game was a matchup of Giants. The Chiefs finished the regular season 12-4 with the two seed, while the San Francisco 49ers finished with a 13-3 record.
The playoffs were filled with hurdles for the Chiefs. They became the first team to come back from down 10+ points three times in the same postseason. They trailed the Texans 24-0, the Titans 17-7 and the Niners 20-10. 
It was a tough loss for the Niners to swallow. Quarterback Jimmy Garoppolo overthrew a wide open receiver in the endzone with a minute left. Garoppolo was not hot down the stretch, as when 49ers head coach Kyle Shanahan placed the offense in his hands instead of running back Raheem Mostert's, the offense fell apart. 
"I'm going to be back," 49ers tight end George Kittle said while mic'd up with The Checkdown. "I'm going to be back with a vengeance."
This wasn't the first blown lead for Shanahan, let alone the first blown Super Bowl lead. Kyle Shanahan was the offensive coordinator for the Atlanta Falcons during their infamous collapse, when Tom Brady and the New England Patriots stormed back from down 28-3 and won the Super Bowl in overtime. Shanahan was mostly criticized for that loss, mainly for the same reason as he's criticized for this year's. He went away from the run. 
49ers fans hope to be back, but they might go shopping for a new quarterback. Their future will all depend on their trust with Garoppolo. For the Chiefs, however, they have a 25-year-old that is already one of the best players in the league. The future is bright, but for now, they're focused on celebrating the present. 
About the Writer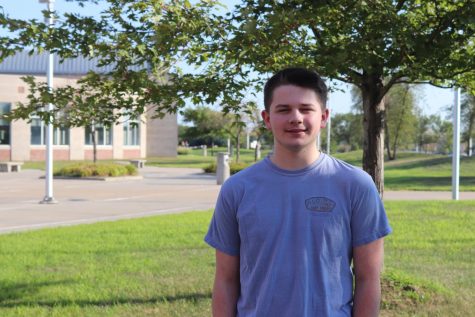 Carson Fox, Staff Reporter
Carson is a senior in his second year of journalism. He is a huge sports fan and loves keeping up with them. In his free time, he likes to hang out with...